Here you can download images, videos, documents, press releases and more.
Extreme E confirms Senegal Legacy Programme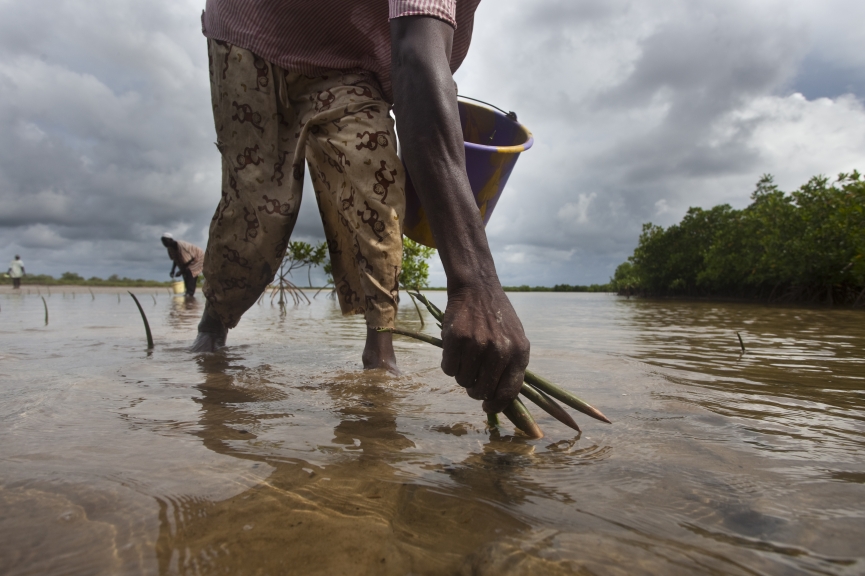 Extreme E, the pioneering electric off-road racing series, has confirmed its second Legacy Programme project; teaming up with local NGO Oceanium to plant one million mangrove trees in Senegal, one of the series' five race locations.
The project, which Extreme E has identified in partnership with TO.org, will focus on five areas totalling 60 hectares, the equivalent of around 112 football pitches, with the aim of reforesting mangroves, providing education to local populations and improving social cohesion. TO.org is a legacy partner of Extreme E in Senegal and has been instrumental in bringing the series to the West African nation as a race location and identifying local legacy projects.
Angèle Lecomte, Executive Director of Oceanium commented: "Mangroves are one of the richest ecosystems in the world, providing essential goods and services and playing an important role in the life of coastal communities in the likes of Senegal. In addition to being an excellent carbon store, they reduce flooding and erosion from storms, act as nurseries for fish and filter salt and pollutants from water.
"Senegal has around 185,000 hectares of mangrove estuaries in the regions of Casamance and Sine Saloum but unfortunately these are disappearing very quickly. Between 1980 and 2000 25 percent of Senegal's mangroves and 35 percent of the world's mangroves have already been lost due to droughts and deforestation.
"The loss of mangroves is having a negative impact not only on the environment, but also for local communities that depend on them for their livelihood, making it so important to restore these degraded areas.

"We are extremely grateful to Extreme E for the commitment it is making to plant one million mangroves in Senegal. One hectare of mangroves can capture five carbon tonnes of CO2 per year, meaning 60 hectares over even just five years could capture approximately 1,500 carbon tonnes, as well as providing many socio economic benefits to the local economy which will ensure a positive impact for years to come."
Louisa Tholstrup, Extreme E's Legacy Programme Leader said: "We are delighted to confirm our partnership with Oceanium, an NGO that has a wealth of expertise in environmental conservation in Senegal. Since its inception in 1984 they have developed a range of reforestation initiatives in partnership with local communities. They have already had fantastic success restoring 15,000 hectares of mangroves, representing 150 million trees planted, so it made perfect sense for us to partner with them for our legacy project in Senegal.

"This is such an important project as the mangroves provide so much, not only to the environment but also the community and sadly the number of mangroves in Senegal is decreasing rapidly. This project isn't just about planting mangroves, we aim to leave a real legacy and support Oceanium and the communities it works with long term. They have made such a big impact already, from improving household income to greater cohesion with the community, and all of us at Extreme E are really excited to support them in their mission."
This announcement follows details of Extreme E's first Legacy Programme supporting The Nature Conservancy that works across the Amazon to provide opportunities for restoration. Extreme E will support The Nature Conservancy's Forest Restoration programme in Para securing 100 hectares of existing forest, restoring 100 hectares of native forest, and will maintain more than 200 hectares of a cocoa-based agroforestry programme by working with 50 local smallholders.
Extreme E, which will race in Lac Rose, Senegal in early 2021, aims to use sport as a platform to raise awareness and encourage positive action for the protection of the environment. The series has committed to support legacy projects which provide support to each of its race locations before and long after the sporting action takes place.
The remaining three legacy projects will be announced in the coming weeks.
Extreme E:

Julia Fry, Head of Communications
E: media@extreme-e.com / T: +44 7778 108754

Carla Corbet, MPA Creative:
E: carla.corbet@mpacreative.com / T: +44 7944 077440
Diego Bustos, BE Mass Media (Latin America -including Brazil-, US Hispanics, Spain, Portugal)
E: diego.bustos@bemassmedia.com / +569-8829-9138 or +1-660-847-4645
---
NOTES TO EDITORS


About Extreme E:
Extreme E is a radical new racing series, which will see electric SUVs competing in extreme environments around the world which have already been damaged or affected by climate and environmental issues. The five-race global voyage highlights the impact of climate change and human interference in some of the world's most remote locations and promotes the adoption of electric vehicles to help preserve the environment and protect the planet.
Another unique feature of Extreme E is its floating garage, the RMS St. Helena. The former Royal Mail cargo-passenger vessel is undergoing a modernisation and refit in order to lower its emissions. It will be used to transport the championship's freight and infrastructure, including vehicles, to the nearest port, minimising Extreme E's footprint as well as being used to facilitate scientific research through an on-board laboratory.
Extreme E is operated in association with Formula E - the organiser of the ABB FIA Formula E Championship. Extreme E is committed to sustainability and minimising environmental impact - as well as playing its part in re-building and restoring areas already impacted by climate change.
About to.Org:
To.org is committed to healing the world by accelerating Earth's most vital ventures. Founded by Nachson and Arieh Mimran, the organization operates through a hybrid model of ventures and philanthropy, built around the fundamental belief that in order to heal the world we must take a creative approach.
The To.org mission is achieved in three distinct ways: 1) Ventures – investing to accelerate Earth's most vital ventures; 2) Create – amplifying Earth's most vital ideas; 3) Foundation – supporting individuals and organizations working to heal people and planet.
Projects To.org has been involved with include the TOGETHER FUND, #TOGETHERBAND, Vollebak, mPharma, and Sokowatch.
For more information please visit https://to.org
About Continental Tyres: Founding Partner and Official Tyre Partner
Continental develops pioneering technologies and services for sustainable and networked mobility of people and their goods. Founded in 1871, the technology company offers safe, efficient, intelligent and affordable solutions for vehicles, machines, traffic and transport. In 2018, Continental generated preliminary sales of approximately €44.4 billion and currently employs some 244,000 people in 60 countries and markets.
The Tyre division has 24 production and development locations worldwide. As one of the leading tyre manufacturers with around 54,000 employees, the division posted sales of €11.3 billion in 2017. Continental ranks among the technology leaders in tyre production and offers a broad product range for passenger cars, commercial vehicles and two-wheelers. Through continuous investment in R&D, Continental makes a major contribution to safe, cost-effective and ecologically efficient mobility. The Tyre division's portfolio includes services for the tyre trade and for fleet applications, as well as digital management systems for commercial vehicle tyres.

About CBMM: Founding Supplier
CBMM is the world leading supplier of niobium products and technology. Headquartered in Brazil, with offices and subsidiaries in China, Netherlands, Singapore, Switzerland and the United States. CBMM offers technical innovation to customers around the globe through a team of over 2,000 highly trained, dedicated professionals providing cutting-edge niobium products and technology to over 400 clients in around 40 countries.
About LuisaViaRoma:
Established in 1929, LuisaViaRoma has been an online luxury destination since 1999. In 2019, LuisaViaRoma celebrated the company's 90th anniversary, as well as the 20th anniversary of its online business.