X44 Vida Carbon Racing win Round 3 at homecoming Hydro X Prix
McConnell and Cristina Gutiérrez crossed the line in second place, but a penalty for on-course winners Andretti Altawkilat Extreme E dropped British-star Catie Munnings and team-mate Timmy Hansen down to second place.

Coming in third were Carl Cox Motorsport, scoring their maiden podium in the championship after just three rounds and at International DJ Carl Cox's home X Prix.

Winners of the Redemption Race were ACCIONA | SAINZ Extreme E Team having seen off championship rivals Veloce Racing.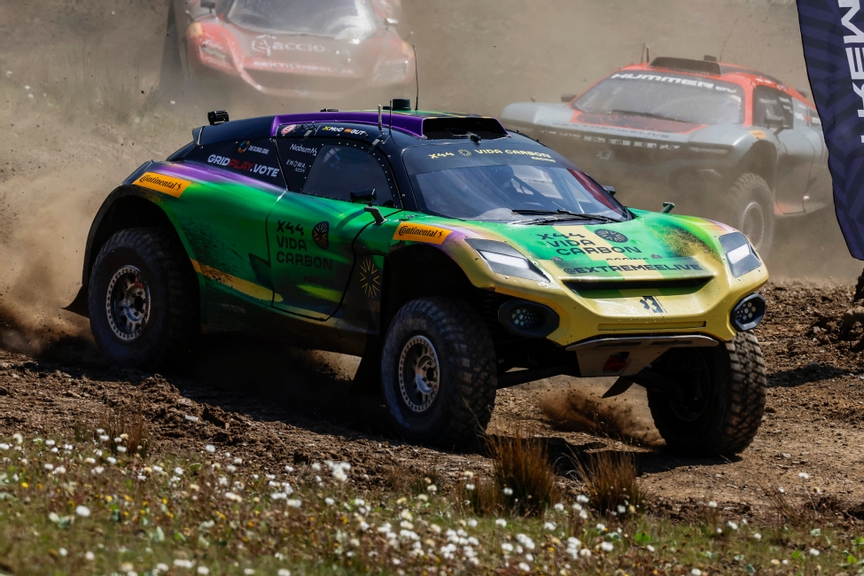 Fraser McConnell, X44 Vida Carbon Racing, said: "It's amazing to get my first win for X44. It's been something that I've been working towards not just for me but for the whole team.

"It just goes to show that prioritising opportunity and inclusivity doesn't have to come at the cost of performance, and we're proud to be showing what's possible here in Extreme E.

"We didn't have the best starting position - second from the outside - so I knew I was going to have to do something a little risky to get in front which I managed. Then I went a little wide and they got the better run, but that's racing. We were able to stay close enough to capitalise on their [Andretti Altawkilat Extreme E] penalty. A win is always a win and very happy to do this one for X44."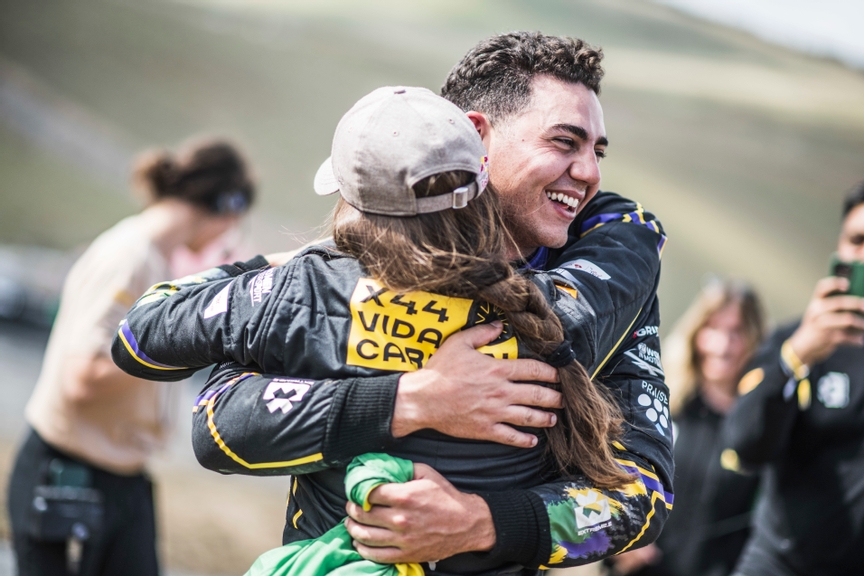 Grand Final

Of the five cars lining up on the start line, two were there for the first time in Extreme E Season 3. For Andretti Altawkilat Extreme E a spot in the Grand Final marked a strong comeback from a difficult Desert X Prix, for Carl Cox Motorsport it was their first ever Extreme E Grand Final.

All the teams except X44 Vida Carbon Racing used their Hyperdrive as they charged towards the first corner. Instead McConnell hung back from the pack, turning early to undercut the ODYSSEY 21s in front and using his Hyperdrive late to storm from fifth to first.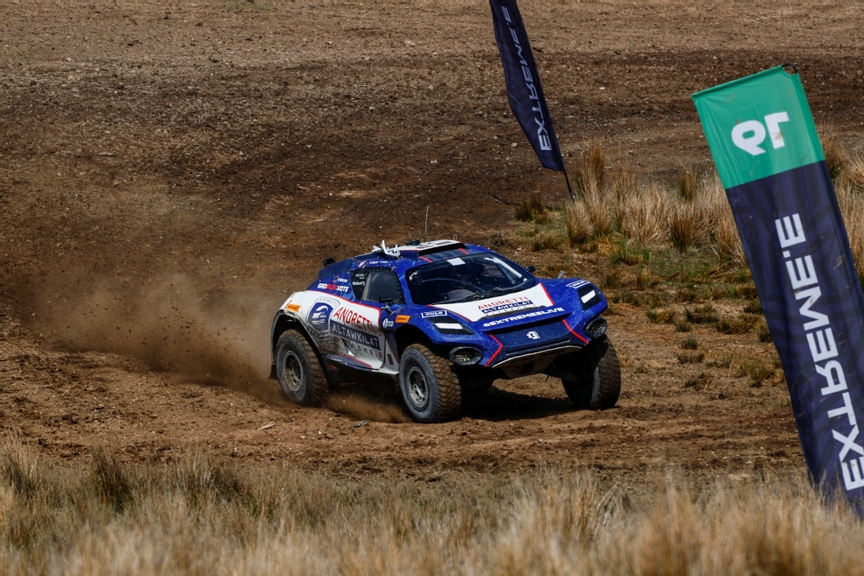 The Jamaican carried this pace into the first steep ascent of the course, but McConnell's speed caused him to run wide, opening the door for Andretti Altawkilat Extreme E's Hansen to pull up alongside and exit the climb in the lead.

Meanwhile Rosberg X Racing's Johan Kristoffersson kept the tussling pair close at hand, and soon performed an overtake on McConnell to take second place. The Swede would not retain it for long, however, as his ODYSSEY 21 connected with the rocky bank of the course, resulting in a roll that put RXR out of the race.

No.99 GMC HUMMER EV Chip Ganassi Racing's RJ Anderson slotted into third place, and Carl Cox Motorsport's Christine GZ ran in fourth as the team's entered the Switch Zone.

Andretti Altawkilat Extreme E exited the driver-change with a comfortable lead that Munnings maintained throughout her two-lap stint. The Brit crossed the line in first-place, but celebrations were cut short when a 15.3-second penalty for a Switch Zone infringement dropped Andretti Altawkilat Extreme E to second.

Inheriting the win, X44 Vida Carbon Racing move up into third place in the championship standings, above long-term rivals RXR in fourth.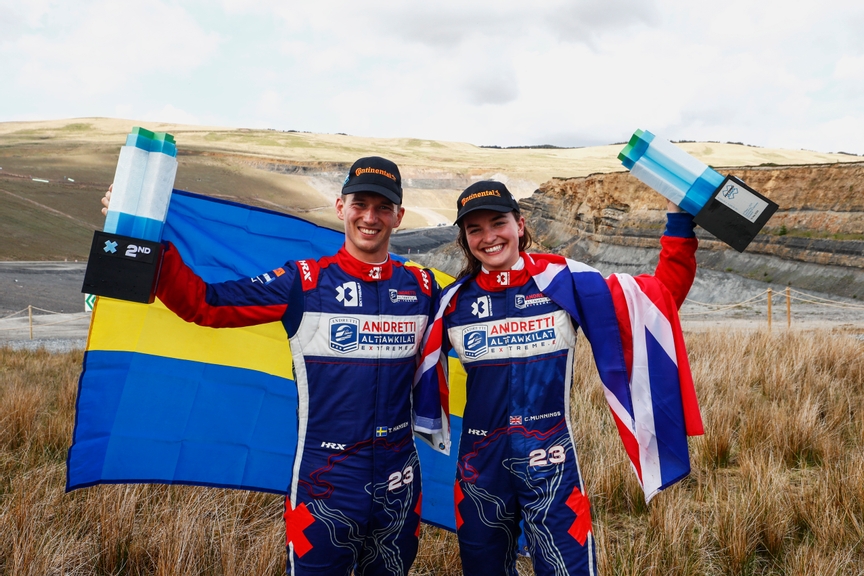 Catie Munnings, Andretti ALTAWKILAT Extreme E, said: "Podiums are amazing no matter where you are standing, especially when the competition here is so fast. The course is unbelievably quick and so technical, so to come away with this is fantastic.

"We crossed the line in P1, and I think we had a good few seconds spare, but unfortunately we got a pretty hefty penalty in the Switch Zone for leaving a bit too early. The top step wasn't ours unfortunately but it feels like a win for us and it's been a little while since we've been on the podium."

Behind the front two, misfortune befell No.99 GMC HUMMER EV Chip Ganassi Racing, as a puncture for RJ Anderson on his run led to trouble for the rest of the race. Carl Cox Motorsport made the most of the opportunity, with Timo Scheider overtaking Amanda Sorensen early on to take a first podium for the team and for Christine GZ.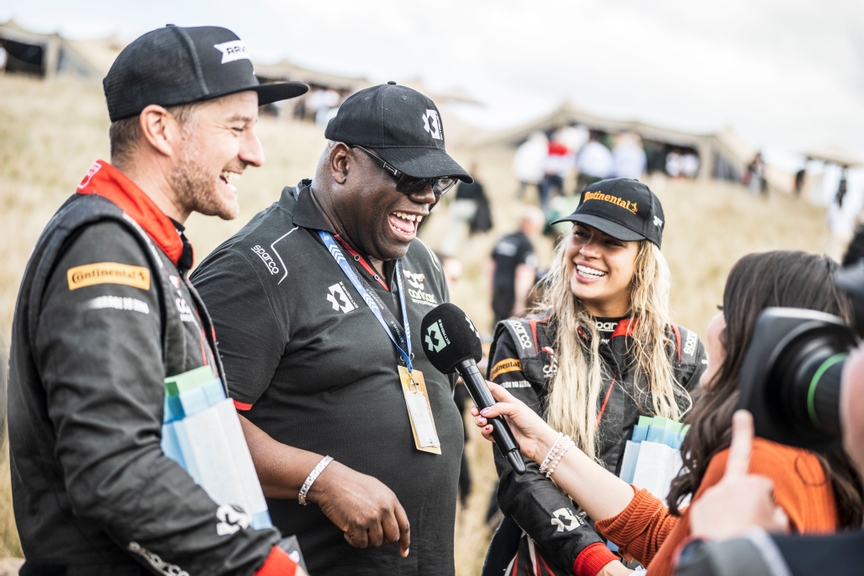 Timo Scheider, Carl Cox Motorsport, said: "Everything is brand new with the team so it's an awesome result for all of us. We had a different strategy from some others today and we had a long discussion about if we were going to swap Christine [GZ] but our strategy played out well in the end.

"Carl Cox has been great. We appreciate having so much positive energy in the team and he is always asking questions. It's very refreshing to see this and the attitude his all about winning and enjoying what he's doing. He also has a bit of history in racing, and he's launched a TCR car in Australia, so he is truly great and I'm proud to to be part of his team here."

Redemption Race

Tied on 46 points as they entered the Hydro X Prix, championship leaders Veloce Racing and ACCIONA | SAINZ XE Team found themselves in unfamiliar territority as they took on their first-ever Redemption Race.

Only four teams lined up for the race, as ABT CUPRA XE were unable to repair their ODYSSEY 21 following a crash for Klara Andersson in Qualifying.
Veloce Racing nearly secured the early lead as Kevin Hansen stormed up the outside line, but water on course caused the British squad's ODYSSEY 21 to lose momentum, allowing ACCIONA | SAINZ XE Team's Mattias Ekström to move to the front of the pack.

As Hansen stayed on Ekström's tail, Emma Gilmour kept the front two in her sights for the NEOM McLaren Extreme E Team. As she pushed to close the gap, Gilmour ran wide into a corner, dropping further behind but staying ahead of JBXE's Andreas Bakkerud.

The teams entered the Switch Zone in this order, and following the driver change a confident drive from Laia Sanz saw her cross the line in first. The Redemption Race win for ACCIONA | SAINZ XE Team was further backed up with a win in the Continental Traction Challenge and puts the team four points ahead of Veloce Racing at the top of the championship standings.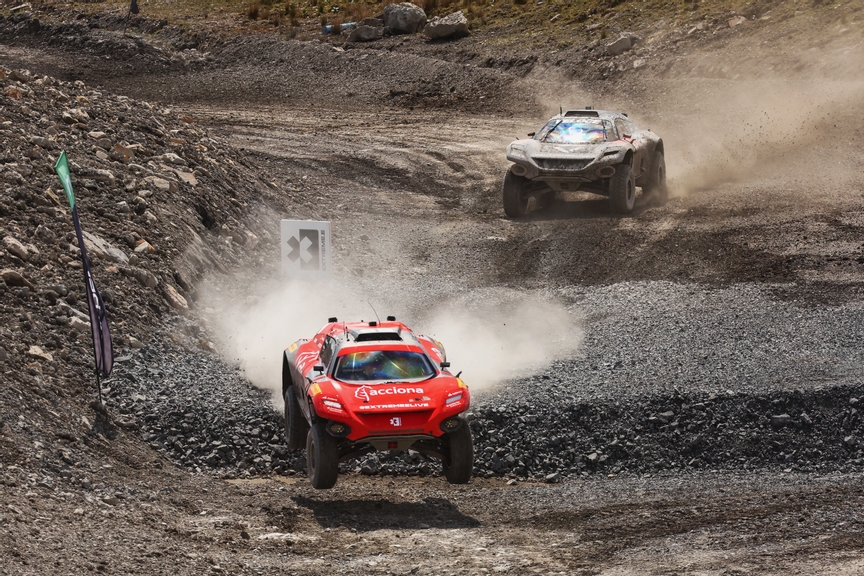 NEOM McLaren Extreme E Team's Tanner Foust pushed hard but finished third behind Veloce Racing's Molly Taylor, with Hedda Hosås finishing the race in fourth for JBXE.

Tomorrow's racing action can be viewed live on STV and ITV in the UK from 1300-1500 BST. Outside of the UK, please visit here for broadcaster details.

RESULTS

Grand Final:
1. X44 Vida Carbon Racing 10:12.670
2. Andretti Altawkilat Extreme E +8.986 (PENALISED)
3. Carl Cox Motorsport +38.977
4. No.99 GMC HUMMER EV Chip Ganassi Racing +1:01.716
5. Rosberg X Racing DNF

Redemption Race:
1. ACCIONA | SAINZ XE Team 09:49.303
2. Veloce Racing +3.650
3. NEOM McLaren Extreme E Team +16.200
4. JBXE +32.779
5. ABT CUPRA XE DNS

Championship Standings:
1. ACCIONA | SAINZ XE Team: 56 points
2. Veloce Racing: 52 points
3. X44 Vida Carbon Racing: 49 points
4. Rosberg X Racing: 42 points
5. No.99 GMC HUMMER EV Chip Ganassi Racing: 33 points
6. Carl Cox Motorsport: 23 points
7. Andretti Altawkilat Extreme E: 23 points
8. NEOM McLaren Extreme E Team: 18 points
9. ABT CUPRA XE: 16 points
10. JBXE: 7 points