New sporting format delivers exceptional Qualifying ahead of Desert X Prix Round 1 Finals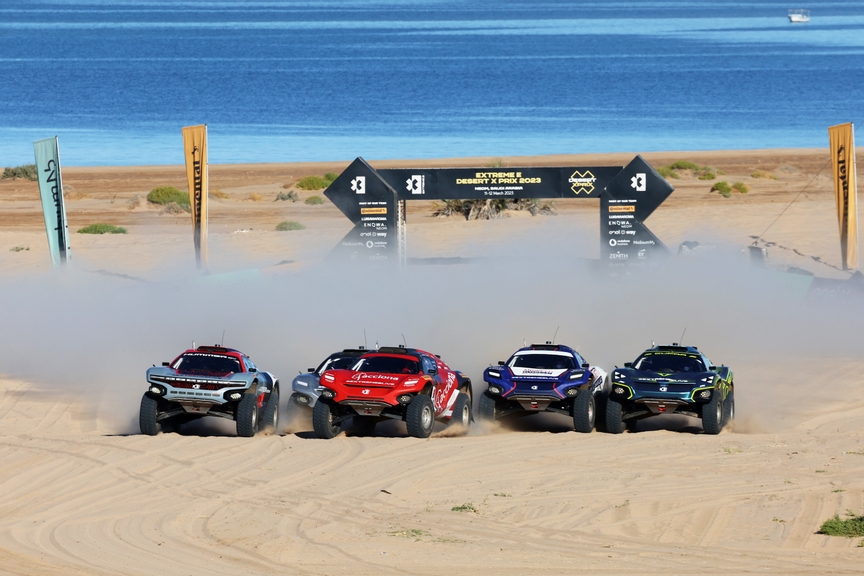 Extreme E's new sporting format delivered an exceptional first Qualifying, as three teams tied on points at the top of the standings ahead of the Desert X Prix Round 1 Grand Final.
In the event of the same points being achieved after Qualifying 1 and 2, the team with the fastest Continental Traction Challenge time so far is deemed to be the quickest. ACCIONA | SAINZ XE Team secured the fastest time through the Challenge, meaning they secured first in overall Qualifying after a win in Q2 H2 and second place in Q1 H1.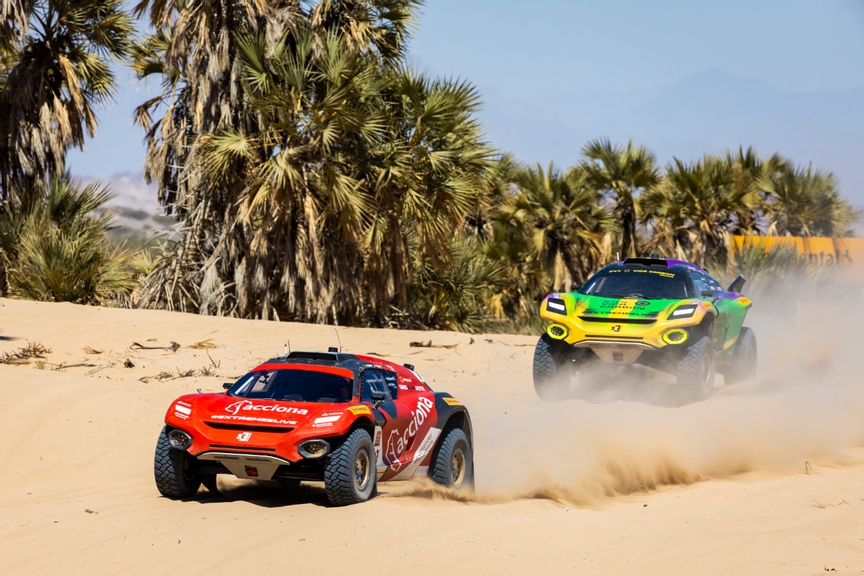 Veloce Racing scored the second quickest time in the Traction Challenge, meaning they finish ahead of X44 Vida Carbon Racing in the Qualifying standings, but both teams progress into the Grand Final having secured a win and a runner-up finish each in the Qualifying Heats.

Completing the line-up for the Grand Final are No.99 GMC HUMMER EV Chip Ganassi Racing, having won Q1 H1 and taking third in Q2 H1, and Rosberg X Racing, who recovered from fourth in Q1 H2 to take second in Q2 H1.

The remaining five teams will fight it out in the Redemption Race to determine sixth to tenth place in the final Round 1 standings.

Q1 Heat 1:

RJ Anderson took an early lead for No.99 GMC HUMMER EV, with Extreme E returner Mattias Ekström in second for ACCIONA | SAINZ XE Team.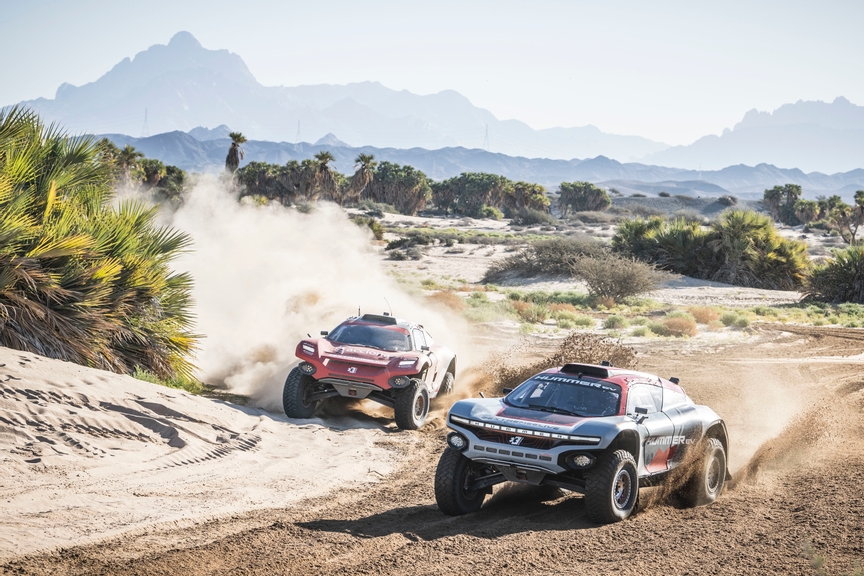 Carl Cox Motorsport's Timo Scheider slotted into third, with Timmy Hansen and Nasser Al-Attiyah close behind after the ABT CUPRA XE driver made contact with the Andretti ALTAWKILAT Extreme E car.

Anderson held off Ekström to enter the Switch Zone first, with Scheider, Hansen and Al-Attiyah maintaining their track position further back.

As Laia Sanz took over the wheel for ACCIONA | SAINZ XE Team following the Driver Switch, the Spaniard ran wide into the water along the shoreline straight, handing debutant Amanda Sorensen an untroubled run to take a win first time out for No.99 GMC HUMMER EV Chip Ganassi Racing and an all important championship point.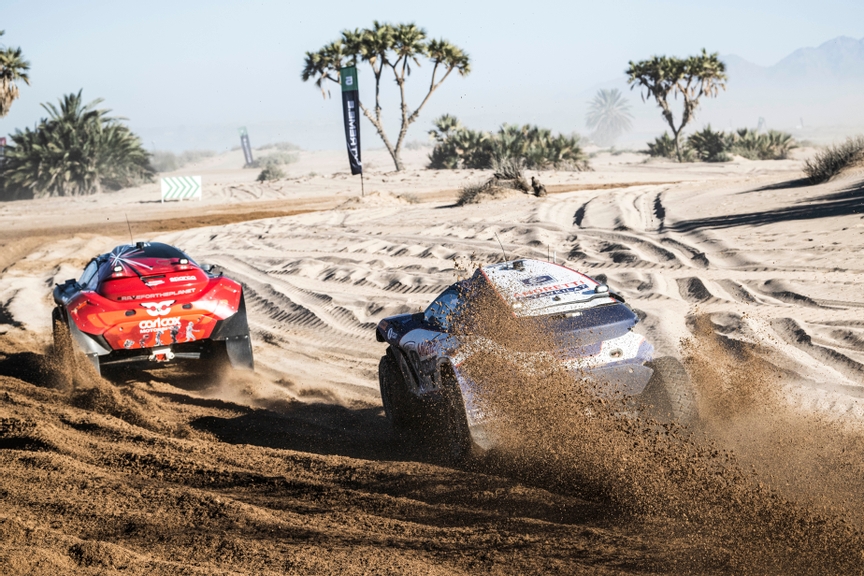 A tight battle ensued between Carl Cox Motorsport and Andretti ALTAWKILAT Extreme E for third place. Catie Munnings made an aggressive move on the inside of Christine GZ, but rolled as her ODYSSEY 21 bounced on an unforgiving bump in the terrain.

The incident put Andretti ALTAWKILAT Extreme E out of the race, ensuring third on debut for Carl Cox Motorsport and fourth for ABT CUPRA XE.

Q1 Heat 2:

Heading into the first corner, NEOM McLaren Extreme E Team's Tanner Foust emerged at the front of the pack, closely followed by Rosberg X Racing's (RXR) Johan Kristoffersson.

In their rear view mirror, however, X44 Vida Carbon Racing debutant Fraser McConnell stuck to the inside line of the tight right-hander, and impressively cut through from fourth to first.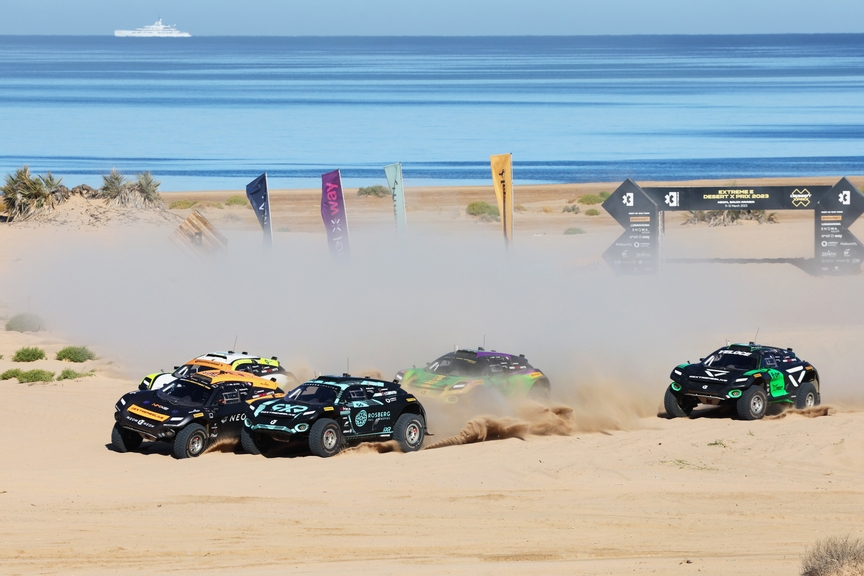 In the thick of the action, Veloce Racing's Kevin Hansen was left to chase down Kristoffersson from fifth place, and soon passed his fellow Swede on the shoreline straight.

On the second lap Foust lost time as he dipped a wheel into the water, opening the door for JBXE's Heikki Kovalainen to surge into second place as NEOM McLaren Extreme E Team dropped to third in front of Veloce Racing and RXR.

The teams entered the Switch Zone in this order, but Veloce Racing's Molly Taylor managed to leapfrog NEOM McLaren Extreme E Team's Emma Gilmour.

As that tight-knit pack launched out of the Switch Zone, Taylor then got the better of JBXE's Hedda Hosås to take second place. Behind them RXR's Mikaela Åhlin-Kottulinsky stole fourth place from Gilmour right by the water's edge.

X44 Vida Carbon Racing pulled clear to take the win, and a championship point, followed by Veloce Racing second. JBXE's Hosås, under pressure from RXR's Åhlin-Kottulinsky, held onto third place ahead of RXR and NEOM McLaren Extreme E Team in fifth.

Q2 Heat 1:

Veloce Racing's Taylor took advantage of a chaotic start to secure first, as contact for Ahlin-Kottulinsky and GZ saw RXR drop to fourth, behind Carl Cox Motorsport but ahead of Andretti ALTAWKILAT Extreme E.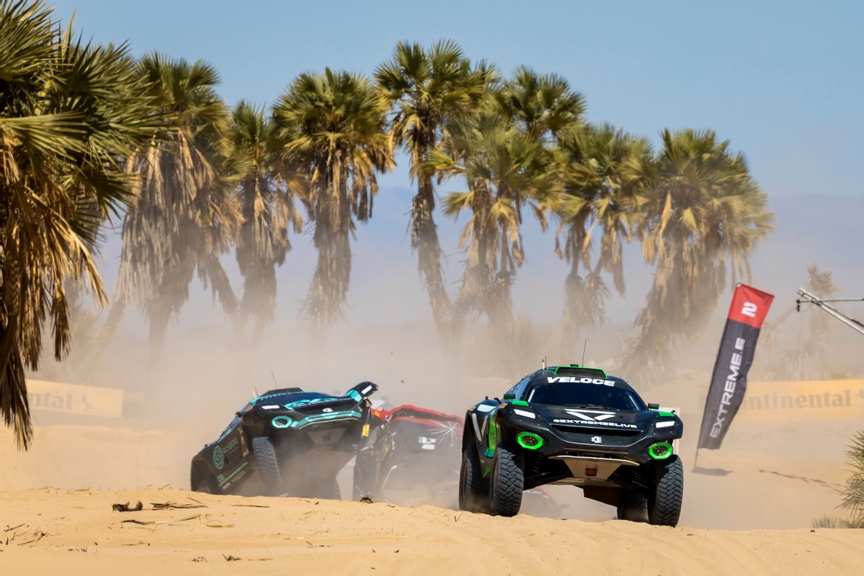 As Taylor extended her lead, Åhlin-Kottulinsky soon passed GZ in the Carl Cox Motorsport ODYSSEY 21 and set her sights on No.99 GMC HUMMER EV Chip Ganassi Racing's Sorensen in second.

Following the driver change in the Switch Zone, Veloce Racing's Hansen continued to pull away from the pack, as RXR's Kristoffersson closed the gap to Anderson in second place. Further back on the course, Andretti ALTAWKILAT Extreme E's Hansen managed to steal fourth from Scheider in the Carl Cox Motorsport ODYSSEY 21.

RXR's Kristoffersson ensured Nico Rosberg's outfit a spot in the Grand Final reckoning with an excellent pass on No.99 GMC HUMMER EV Chip Ganassi Racing's Anderson to take second behind Veloce Racing, with all three teams progressing into the Grand Final.

Fourth in the Heat were Andretti ALTAWKILAT Extreme E, while Carl Cox Motorsport failed to finish the race due to technical issues. With a DNF each in overall Qualifying, both teams find themselves in the Redemption Race.

Q2 Heat 2:

A blistering start from Sanz for ACCIONA | SAINZ XE Team saw the Spaniard take the lead ahead of JBXE's Hösas and Cristina Gutiérrez in third for X44 Vida Carbon Racing.

Gutiérrez worked her way around the JBXE ODYSSEY 21 to take second, before NEOM Extreme E Team's Gilmour pulled off an amazing move to pass Hösas and take third from Jenson Button's team.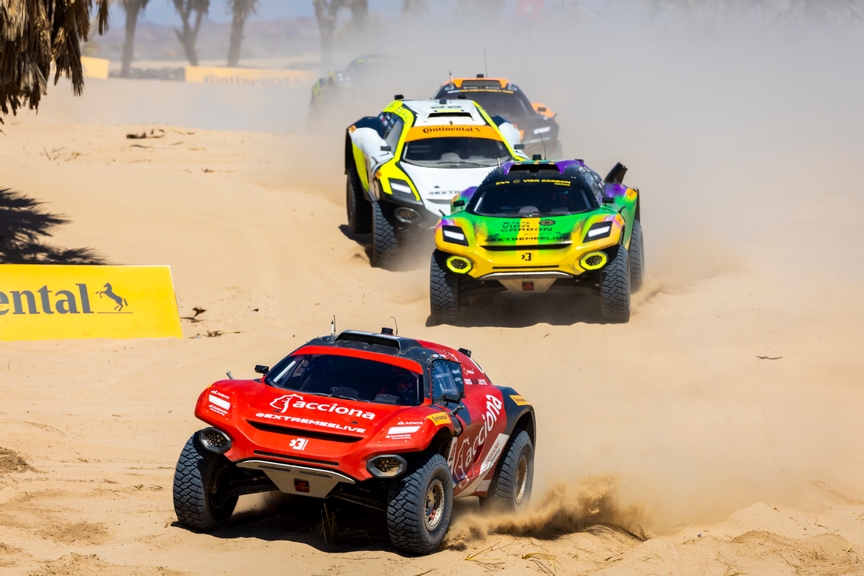 As X44 Vida Carbon Racing closed in on ACCIONA | SAINZ XE Team out front, ABT CUPRA XE's Andersson was hot on the heels of JBXE. Hösas held her ground until the shoreline, where Andersson gained enough momentum to pass the Norwegian into a right-hander.

Following the Switch, Ekström pulled away from McConnell in the X44 Vida Carbon Racing ODYSSEY 21 to take a comfortable win and championship point for ACCIONA | SAINZ XE Team.

X44 Vida Carbon Racing finished second to join Sanz and Ekström in the Grand Final. NEOM McLaren Extreme E Team took third in the Heat ahead of ABT CUPRA XE and JBXE, with all three teams set to battle it out in the Redemption Race.

With the Redemption Race and the Grand Final imminent, find out where you can watch the action here.

Q1 Heat 1:
1. No.99 GMC HUMMER EV Chip Ganassi Racing 11:32:914
2. ACCIONA | SAINZ XE Team +3.384
3. Carl Cox Motorsport +18.663
4. ABT CUPRA XE +2:09.126 (PENALISED)
5. Andretti ALTAWKILAT Extreme E DNF

Q1 Heat 2:
1. X44 Vida Carbon Racing 11:32.993
2. Veloce Racing +8.734
3. JBXE +19.100
4. Rosberg X Racing +20.980
5. NEOM McLaren Extreme E +28.728 (PENALISED)

Q2 Heat 1:
1. Veloce Racing 11:38:038
2. Rosberg X Racing +8.861
3. No.99 GMC HUMMER EV Chip Ganassi Racing +14.424
4. Andretti ALTAWKILAT Extreme E +25.397
5. Carl Cox Motorsport DNF

Q2 Heat 2:
1. ACCIONA | SAINZ XE Team 11:29:779
2. X44 Vida Carbon Racing +5.344
3. NEOM McLaren Extreme E +11.347
4. ABT CUPRA XE +18.343
5. JBXE +25.524

Overall Qualifying Standings:
1. ACCIONA | SAINZ XE Team: 18 points
2. Veloce Racing: 18 points
3. X44 Vida Carbon Racing: 18 points
4. No.99 GMC HUMMER EV Chip Ganassi Racing: 16 points
5. Rosberg X Racing: 12 points
6. NEOM McLaren Extreme E: 8 points
7. ABT CUPRA XE: 8 points
8. JBXE: 8 points
9. Carl Cox Motorsport: 6 points
10. Andretti ALTAWKILAT Extreme E: 4 points