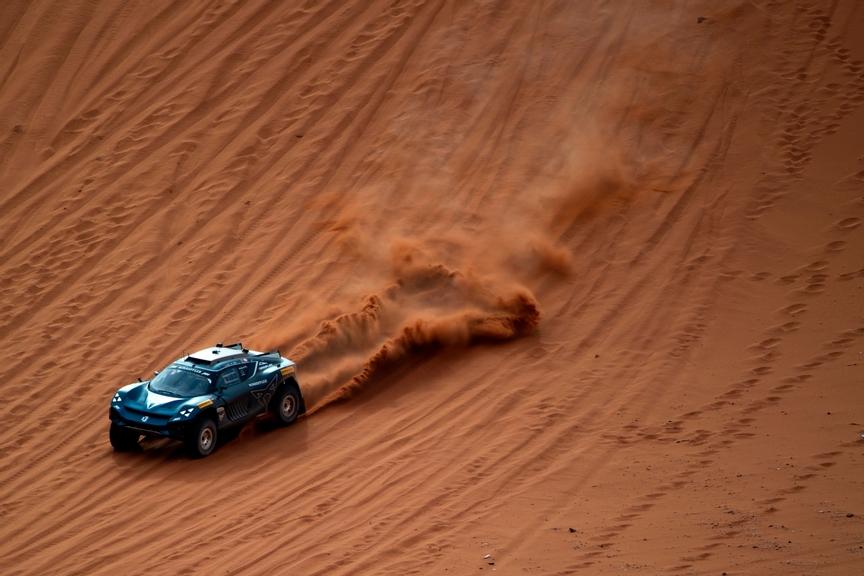 Extreme E announces premium streaming platform, STARZPLAY, as latest broadcaster
As it prepares for its very first event in Chile this weekend (24/25 September), pioneering electric off-road racing series Extreme E is pleased to announce its latest broadcast agreement with premium streaming service, STARZPLAY Arabia, ranked consistently among the region's top 3 subscription video on demand services.

STARZPLAY will stream Extreme E's live races in the MENA region (Middle East and North Africa), as well as highlights, magazine, preview and review show in English, on its platform.

STARZPLAY Arabia allows viewers easy access to an extensive library of blockbuster movies as well as a wide-ranging catalogue of premium shows, without the need for a cable or satellite subscription. In addition, the paltform's incredible line-up can all be conveniently viewed via the app on a phone, tablet or Smart TV and Connected TV devices across multiple platforms, including Android TV, Apple TV, Samsung, and LG.

STARZPLAY is home to premium titles, such as original hit shows like Baghdad Central, Power, Vikings, Walker, The Flash, Your Honor, My Hero Academia, and much-loved classic shows like The Big Bang Theory, The Office, plus the biggest Hollywood blockbusters and the freshest Arabic content. With thousands of hours of premium content including the best western content, Arabic shows, Turkish favourites, anime, and live sports, STARZPLAY is today the number one streaming platform in the MENA region. The service is available in 19 countries across the Middle East, North Africa and Pakistan for fans to enjoy quality content anytime, anywhere, and from any device.

Ali Russell, Chief Marketing Officer at Extreme E, said: "Extreme E is delighted to be joining STARZPLAY's wide-ranging programme line up in MENA, a vital and burgeoning region for our sport for purpose championship.

"Extreme E's mission to 'race without trace' whilst simultaneously raising awareness of climate issues means it is vital that our series reaches as many audiences on as many platforms as possible throughout the world.

"Working with STARZPLAY will not only provide viewers with a thrilling and innovative motorsport championship, but also convey the message that we all need to play our part in looking after our planet."

Andy Warkman, Head of Sport at STARZPLAY, said: "We are excited to welcome Extreme E to our growing portfolio of sports and are looking forward to streaming the Copper X Prix live from Chile this weekend. Not only does Extreme E bring high action racing in extreme environments, like NEOM in Saudi Arabia, it simultaneously raises awareness of climate issues, so it is important for us to be working with Extreme E on their mission to 'race without trace'".

Not only does Extreme E feature sharp, exciting, wheel-to-wheel racing, there is a wider purpose to the championship around the environment which is under threat.

Extreme E aims to shine a spotlight on climate issues through its sustainable motorsport, which utilises a variety of methods to reduce its carbon footprint, from racing electric SUVs to zero-emission hydrogen fuel cell charging.

By focussing on the environment through racing Extreme E encourages consumers to make small changes to reduce their own carbon footprint and help tackle the climate emergency.

The series visits remote locations which have all been affected by environmental issues such as desertification, deforestation, melting ice caps, plastic pollution, and rising carbon emissions. It's latest location is the Atacama Desert in Chile, for the Antofagasta Minerals Copper X Prix on 24/25 September 2022. Find out where you can watch the action here.