Scene set for Saudi spectacular as Extreme E Season 2 is set to get underway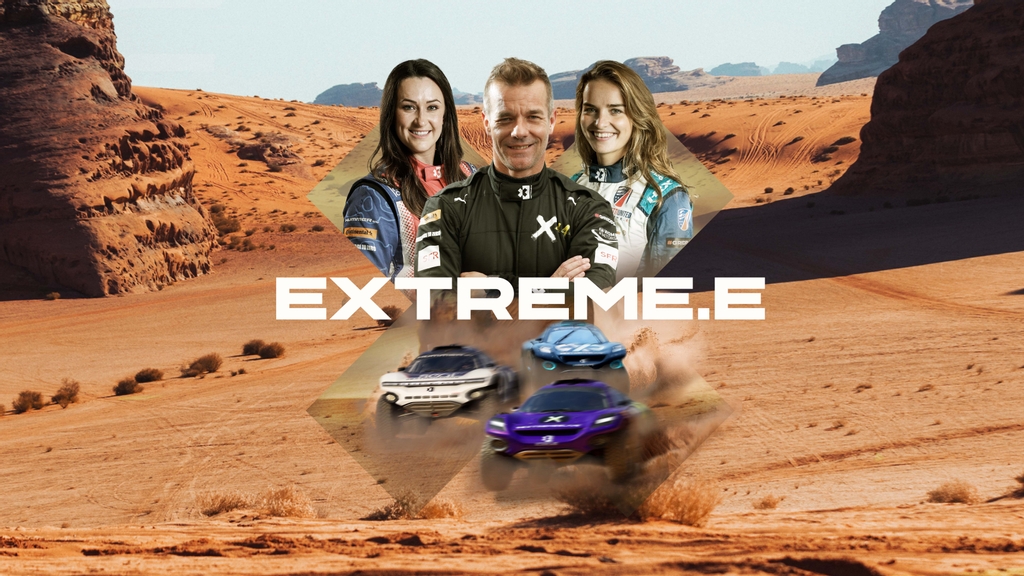 Building on the success of its debut year in 2021, Extreme E Season 2 'The Race For the Planet' promises to captivate on and off track on a whole new level, whilst delivering on its overall purpose to tackle climate change through sport, starting with the Desert X Prix in NEOM, Saudi Arabia, this weekend (19-20 February).

Extreme E Season 2 begins in the deserts of NEOM, a region in the northwest of Saudi Arabia where the Kingdom's largest global giga-project is taking shape. NEOM was chosen as a location by Extreme E, not only for its picturesque desert landscape and its shared values of sustainability and innovation, but also because this sport-for-purpose championship aims to highlight the causes of desertification, the loss of biological diversity and the importance of resilience because of the impacts of climate change.

In addition, the distinct and diverse desert terrain of NEOM will also ensure it is an all-new challenge for the drivers and their ODYSSEY 21 electric SUVs.

Extreme E visited Saudi Arabia, home of the world's largest continuous sand desert, and its AlUla region, in Season 1 for its inaugural X Prix, which was won by the Championship's inaugural winners, Rosberg X Racing (RXR).

New Sporting Format

The Series has devised an innovative format unlike any other, likened to 'Star Wars Pod Racing meets Dakar Rally.' Designed to put driver performance firmly in focus, the five X Prix of Extreme E Season 2 will feature the pressure of five car races for qualifying on Day One.

Depending on where you finish in your qualifying race, you will get points awarded for Q1 and Q2. This gives an Intermediate Classification that will decide the order for which cars progress through to Semi Final 1, Semi Final 2 and the Crazy Race on Day Two. The top two teams from each Semi Final and the winner of the Crazy Race progress to the Final.

Every round will incorporate two laps over a total distance of approximately 14 kilometres. In a motorsport world-first, teams will field one male and one female driver, promoting gender equality and a level playing field amongst competitors. The teams will determine which driver goes first to best suit their strategy and driver order selections are made confidentially, with competitors kept in the dark as to other teams' choices until the last possible moment. Contests between males and females will therefore be ensured.

Both drivers will complete one lap behind the wheel of the ODYSSEY 21 electric SUV, with a driver changeover, the 'Switch', included after the first lap. A 'Hyperdrive' boost will also be available to each driver on each lap of the race. Activated when the driver presses a button on their steering wheel, they will enjoy an increase in power for a fixed amount of time. The timing for this will be a key decision.

Full sporting format and points as follows:

Saturday morning
Qualifying 1 Heats 1 and 2: each 5 cars over 2 laps with a Switch
NB Positions for Qualifying 1 allocated through a lottery

Saturday afternoon
Qualifying 2 Heats 1 and 2: each 5 cars over 2 laps with a Switch
NB Positions for Qualifying 2 allocated through finishing positions from Qualifying 1
Intermediate Classification points, which do not contribute to overall Championship points, will be awarded after each of the Qualifying Rounds according to the following scale:

1st – 5 points
2nd – 4 points
3rd – 3 points
4th – 2 points
5th – 1 point

The combined points of each Team's runs in Qualifying Rounds 1 and 2, will determine the overall Intermediate Classification at the end of Qualifying, which will determine which Teams go into Semi Final 1, Semi Final 2 and the Crazy Race.

1st – Semi-Final 1
2nd – Semi-Final 2
3rd – Semi-Final 2
4th – Semi-Final 1
5th – Semi-Final 1
6th – Semi-Final 2
7th – Crazy Race
8th – Crazy Race
9th – Crazy Race
10th – Crazy Race

Sunday
Semi-Final 1 – Three-car race with top two cars going through to the Final
Semi-Final 2 – Three-car race with top two cars going through to the Final
Crazy Race – Four-car race with first place going through to the Final
Final – Five-car Final with the top three going to the podium

Championship points
1st: 25 points (winner of the Final)
2nd: 18 points (2nd place in the Final)
3rd: 15 points (3rd place in the Final)
4th: 12 points (4th place in the Final)
5th: 10 points (5th place in the Final)
6th: 8 points (3rd place from Semi-Final 1 or Semi-Final 2)*
7th: 6 points (3rd place from Semi-Final 1 or Semi-Final 2)*
8th: 4 points (2nd place in the Crazy Race)
9th: 2 points (3rd place in the Crazy Race)
10th: 1 point (4th place in the Crazy Race)

* The team finishing third in Semi-Final 1 or Semi-Final 2 that sets the faster Continental Traction Challenge time shall be deemed to be the 6th place finisher.

Continental Traction Challenge
The team that sets the fastest time through the allocated sector in Qualifying, Semi-Finals, Crazy Race and Final, will win the Continental Traction Challenge and earn five Championship points.

If any teams are tied in the qualifying standings their positioning will be determined by their time in the Continental Traction Challenge - the team with the quicker run through the allocated sector receiving the higher overall position in qualifying.

As previously stated, the team finishing third in Semi-Final 1 or Semi-Final 2 that sets the faster Continental Traction Challenge time shall be deemed to be the 6th place finisher.

Teams and drivers

The 10 teams and 20 drivers for the Desert X Prix are as follows:
ABT CUPRA XE – Nasser Al-Attiyah / Jutta Kleinschmidt 
ACCIONA | Sainz XE Team – Carlos Sainz Snr. / Laia Sanz
Genesys Andretti United Extreme E – Timmy Hansen / Catie Munnings
Chip Ganassi Racing– Kyle LeDuc / Sara Price
McLaren XE – Tanner Foust / Emma Gilmour
JBXE – Kevin Hansen / Molly Taylor
Rosberg X Racing – Johan Kristoffersson / Mikaela Åhlin-Kottulinsky
Veloce Racing – Lance Woolridge / Christine GZ
X44 – Sébastien Loeb / Cristina Gutiérrez
XITE ENERGY RACING – Oliver Bennett / Tamara Molinaro
Saudi Arabia and climate change

In Saudi Arabia, Extreme E has collaborated with the Ba'a Foundation, an organisation that focuses on preserving endangered species, natural habitats and historical sites to support turtle conservation along the Red Sea coastline. Extreme E are supporting turtle conservation through beach fencing, management, monitoring and educational programmes.

Ba'a Foundation aspires to preserve the local environment, promote a culture of conscious environmental practices, and contribute to achieving sustainable environmental development.

We collaborated with the Ba'a Foundation on a five-year conservation initiative to help protect the endangered green turtle and critically endangered hawksbill turtle along the Red Sea coastline.

As part of Extreme E's five-year conservation initiative programme with the Ba'a Foundation, the series has supported turtle conservation by:
Cleaning the beach of rubbish pollution and debris
Building beach fencing to help protect the species during nesting season
Improving beach management and monitoring practices
Importing sand to raise the beach to an appropriate level for nesting
Count Us In Challenge

Extreme E will continue its collaboration with Count Us In for the Extreme E Count Us In Challenge, which uses the power of sport and the excitement of motor racing to inspire fans to take practical steps to reduce their carbon footprint and, in doing so, urge governments, cities and businesses to accelerate progress on climate action.

Steps range in impact from pledging to walk and cycle more, eating more plant-based food, to Extreme E's ultimate goal of switching to an electric vehicle. All steps taken will be added up and the winning team will claim the overall Extreme E Sustainability Award at the end of the season.

New course, new challenges

In terms of surface, there are various types of sand conditions in NEOM. There is soft sand with rocks in between, dunes scaling up and down hill, which all differ in thickness and weight of the sand. Outside temperature will also affect the ground surface, as the early mornings in NEOM in February will be much cooler than the teams experienced in AlUla last season.

Aside from the obvious difficulties of driving on sand, there will be various natural obstacles including dune grass and bushes. Deep and blind crests will also keep the world-class drivers on their toes as they take on this course. The drivers will need to be sensible and analyse the course layout to understand the quickest route as on course there won't be much track time to determine exactly where to go.

Overtaking will also prove a bigger challenge than at other locations. As well as having knowledge of their racing line, the drivers need to know what is beside that line to determine whether to overtake on the right side or the left. One wrong move and they could be faced with a tricky obstacle to navigate.

Sandra Roslan, Project Lead Extreme E at Continental, said: "We are ready for an even more exciting second Extreme E season and looking forward to once again proving the outstanding performance of our tires under the toughest and most challenging conditions.

"The Desert X Prix also marks the beginning of an exciting time for us at Continental, as we have developed a new high-performance tire for the second season. We have not only improved performance, but also placed particular emphasis on a high proportion of sustainable materials – and this is what Extreme E is all about."

Schedule

All times GMT

Friday 18 February
1100 – 1400 Free practice
1330 – 1430 Pre-Desert X Prix press conference

Saturday 19 February
0815 – 0900 Qualifying 1
1215 – 1300 Qualifying 2

Sunday 20 February
0910 – 1025 Semi-Finals and Crazy Race
1330 – 1345 Final
1415 – 1515 Post-race press conference
All times GMT

Where to watch

Shakedown and qualifications will be aired through Extreme E's official website – www.extreme-e.com and social channels (@extremeelive on YouTube, Instagram, Facebook, Twitter and Twitch).

The Finals will be shown in more than 200 countries by 85 broadcasters. A full list of broadcasters can be found here.