Extreme E's endeavours off the course in Greenland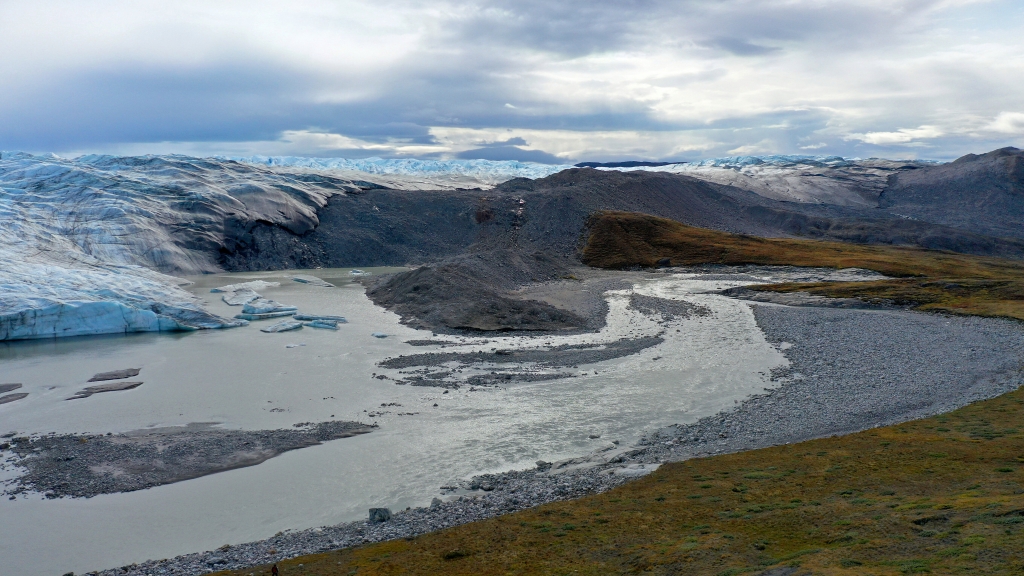 Extreme E continued to set new precedents last weekend in Greenland as it hosted the country's first ever motorsport event, the Arctic X Prix. As well as Andretti United Extreme E securing a stunning victory, there were also huge gains made away from the course.
When it comes to the climate crisis, fewer places have felt the impact quite like Greenland. The melting of its ice sheet presents the single greatest threat to sustainable sea levels, with many scientists predicting that a complete melting of the one-million-year-old ice cap could lead to a seven-metre sea level rise over the next 350 years.
Alejandro Agag, Founder and CEO of Extreme E said: "The reason we raced in Greenland was so much bigger than putting on a fantastic show – it was also vital to highlight the issues faced in the Arctic and address them by taking real action.
"It is a truly sobering place to be when you understand the scale of the situation and this has really bought home the severity of the global climate emergency to me, and the race against time that we are all part of.
"I hope by being here last weekend and using our global media platform, we have shown the world not only the effects of climate change, but also have continued to educate on the solutions, through the expert knowledge of our Scientific Committee, and also through our Legacy Programme with UNICEF in Greenland and the community of Kangerlussuaq."
Mute B. Egede, Premier, Government of Greenland added: "It is very exciting for Greenland to host an event like Extreme E. Not only is it the first motorsport race in Greenland, but it also brings the attention of the international media on climate change where Greenland and the ice cap is the epicenter. We appreciate the emphasis on solutions and sustainability, as Greenland is itself very focused on sustainability. For instance, greenlandic households energy comsumption is primarily covered by hydropower. Furthermore, the greenlandic government has recently put a stop for all further oil and gas exploration."
Christiana Figueres, who was instrumental in the UN's 2015 Paris Agreement talks, attended the race weekend to see the sport for purpose racing series in action. She said: "The work Extreme E is doing here is very important as the fact is, the Paris Agreement establishes the track that every country is going to follow toward a net zero emissions future by 2050.
"Everyone has to win on climate because otherwise no one wins and so what Extreme E is doing is actually breaking the boundaries of technology and showing what is possible with electric mobility and also helping us to break the boundaries of our mental barriers that tell us that maybe we cannot address climate change – but what if we can? What if we go at it with the same driven mentality that was shown at the Arctic X Prix?"
In step with these goals, Extreme E has also endeavoured to radically minimise the environmental impact of the championship. As documented by world-renowned EY's Social and Environmental Impact Design Considerations Report, the vast majority of impact factors, such as contamination, protected areas and noise were judged to be low risk, with none deemed a high risk to Greenland and its environment, truly enforcing the championship's mission to race without a trace.
These activities, designed to reduce impact and leave long-lasting positive legacy, included:
Providing climate change education to 3,600 young people in collaboration with UNICEF
Installing a solar power set-up at Qinnguata School in Kangerlussuaq with XITE ENERGY RACING and myenergi.
Working with the Danish Automobile Sports Federation (DASU), the municipality of Qeqqata and Kalaanni Teknikkimik Ilinniarfik (KTI, the vocational School of Greenland) to present an interdisciplinary project to provide electric go-karts.
Two scientists, Alexander Vanhaelen and Adam Pantelis Galatoulas, will join the St. Helena this week and stay onboard until the Island X Prix to filter seawater and obtain DNA shed from marine life, boosting essential data banks that are critical to our understanding of the world underwater.
As part of the partnership with the Royal College of Art (RCA) a robotics pack has been installed on the St Helena. The equipment installed by RCA academics will monitor and collect vast amounts of data about the world's oceans as the ship travels to the forthcoming Extreme E race locations. This will provide students and research staff with real world scenarios and vital data to inform possible solutions as part of the College's Grand Challenge.
MDD, the championship's on-event medical service, has worked with the Kangerlussuaq Medical Centre to train their nurses in the use of a portable ultrasound device, as well as organising 'First Person On Scene' (FPOS) training with the local health and rescue personnel in the SAR hangar. Casualty Simulation Courses were provided to the local Fire and Rescue service, the police and pilots as well as hoist operators and health personnel. In addition, MDD is supplying new resuscitation and trauma equipment for the SAR Helicopter, and for the towns Fire and Rescue Department that employs the local Ambulance Service. The company has also provided 'Stop the Bleed' training to those who attended from the surrounding areas.
All attendees bringing their own plates saving 12,000 disposable containers.
In addition, attendees bought their own cutlery meaning no need to dispose of 15,000 single use knives, forks and spoons.
No single use plastic on-site, with attendees bringing their own water bottles and mugs.
Having Natural Event Loos on-site which are sustainable and compostable meaning no energy required or water wasted. These will be left in Greenland for the community to use once Extreme E departs.
Surplus food donated to local food bank.
Approximately 50 sets of bedding donated to the local orphanage.
LyfeCycle, created by British innovators Polymateria with the aim to tackle the global plastic pandemic, launched its 'Reach for Change' bracelet featuring one-of-a-kind sustainable beads repurposed from LyfeCycle cups, an adjustable cord from recovered plastic bottles, and a recycled fair trade silver emblem. It is a tangible example of how LyfeCycle materials designed for biodegradation can also be upcycled into high value items such as jewellery thanks to the unique time-set biodegradation property.
No fans on site at Extreme E races, saving a potential 20 per cent of sporting event's usual footprint.
The use of an AFC Energy hydrogen fuel cell which provides the charging power for all Extreme E race vehicles. The hydrogen, created on-site from solar and water, is a fully off-grid power source which showcases the potential for wider world application.
Paddock power provided by a Zenobe battery. This battery is living its second life with Extreme E, having previously powered a bus in Stockholm.
Remote and innovative broadcast operations, which involves commentary, editing and overlays being added in a London studio, minimising the amount of personnel and equipment required on-site.
The Extreme E championship continues in Sardinia, Italy at the Island X Prix on 23-24 October, which will not only provide thrilling racing but another set of Legacy Programmes to support the community and the race for the planet.