Extreme E celebrates partnership with UNICEF on International Youth Day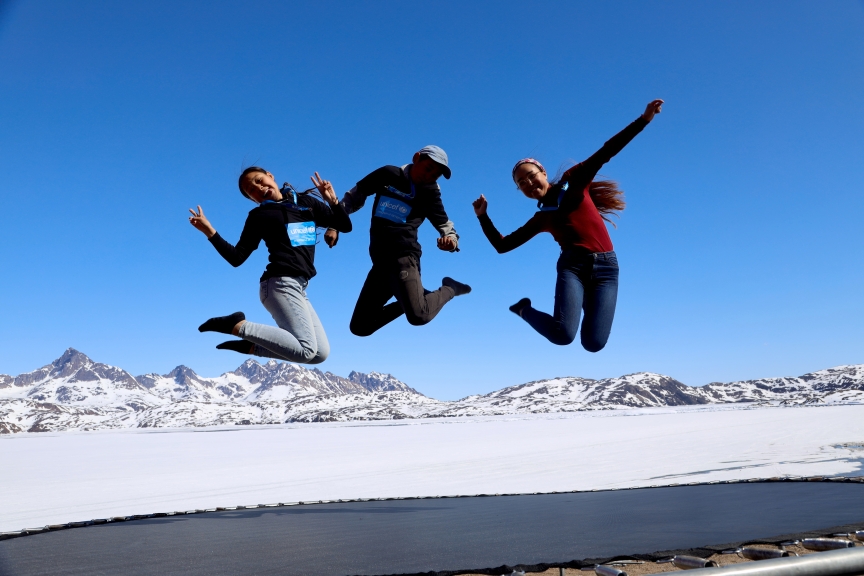 Extreme E is proud to celebrate International Youth Day through its collaboration with UNICEF as part of the championship's Legacy Programme around its upcoming Arctic X Prix in Greenland. The collaboration aims to help UNICEF empower young changemakers by reimagining climate education.
Extreme E has been supporting UNICEF's work on climate education to design and develop educational resources in order to enable teachers and school children across Greenland to understand and start to address the climate related issues that are putting their futures and those of generations to come at risk.
The teaching materials will be launched with the national teachers' seminar from 8-9 September in Greenland. The seminar is being held in collaboration with the NAKUSSA Project, which focuses on promoting children's rights, and more than 45 teachers are expected to attend to not only improve their knowledge on the subject, but also to discuss how best to implement in class. The resources will then be taught as part of the curriculum in Climate Week which commences on 27 September and will reach approximately 2,000 young people between 14 and 16 years of age.
Professor Richard Washington from the championship's Scientific Committee worked closely with UNICEF, supporting the creation of the climate education resources. Professor Washington's decades of research into climate change, including multiple expeditions to the Arctic, have provided further real-world insight into the effects of the climate crisis not only in Greenland, but all over the world.
The collaboration between Extreme E and UNICEF builds on the child rights organisation's existing work in Greenland to promote and protect the rights of children— including those linked to the environment —helping to empower them to become active citizens and providing them with the necessary tools to reimagine a cleaner, greener future.
Climate change is affecting many areas of children's lives; more than half a billion are living in high flood occurrence zones, almost 160 million are based in areas of high drought, 600 million children will be residing in areas with extremely limited water resources by 2040, approximately two billion children live in areas with toxic levels of air pollution, 93 per cent of the world's children under the age of 15 years breathe air that is so polluted it puts their health and development at serious risk and over 230 million children worldwide go to primary school without electricity. This all adds up to one in four deaths of children under five being attributed to unhealthy environments, and more than 70 per cent of children globally consider climate change one of the most pressing issues facing young people today.
Alejandro Agag, Founder and CEO of Extreme E said: "Sadly, children are the most vulnerable in every crisis, and climate change is no exception. Not only are they the most vulnerable, but they are also the least responsible yet bear the greatest burden of its impact – 90 per cent of the health impacts of climate change are expected to affect children under the age of five the most – which makes this collaboration with UNICEF so important.
"I hope by working with UNICEF and our Scientific Committee to create these resources, we can help educate on the effects of the climate crisis, but also inspire change and action. Overall, our sport for purpose is all about showing how we can all reduce carbon emissions to protect our planet."
Gordon Glick, Deputy Executive Director of Partnerships and Philanthropy at The UK Committee of UNICEF (UNICEF UK), said: "An increase in extreme weather events due to climate change is threatening children's access to their rights all across the world.
"As the leading global child rights organisation, we are continuing to implement initiatives around the world to make schools, health centres, water and sanitation facilities – and other services critical to children's wellbeing – resistant to climate and environmental shocks, while encouraging children and young people to effect urgent change for the future of our planet.
"At UNICEF, we know that children and young people can play a key role in addressing climate-related risks by promoting environmentally sustainable lifestyles and setting an example for their communities. Thank you, Extreme E, for being champions for children and working with us to help empower children in Greenland to understand the impacts of climate change and take action."
In 2020 alone, UNICEF supported the implementation of crucial environmental sustainability initiatives in 74 countries. In the same year, UNICEF helped over 750,000 children and young people engage in climate action in 2020. UNICEF was also instrumental in achieving the inclusion of children's rights in the Paris Agreement, making it the first global environmental treaty to recognise children's rights in the context of climate action.
Extreme E's Arctic X Prix takes place in Kangerlussuaq, Greenland, from 28-29 August and is available to watch through a host of international broadcasters including ITV, Sky Sports, BT Sport and BBC digital channels in the UK, FOX Sports in America, Eurosport in Europe and KNR in Greenland itself. For a full list of global broadcasters please click here.