Innovative plastic pollution solution revealed at Extreme E's Ocean X Prix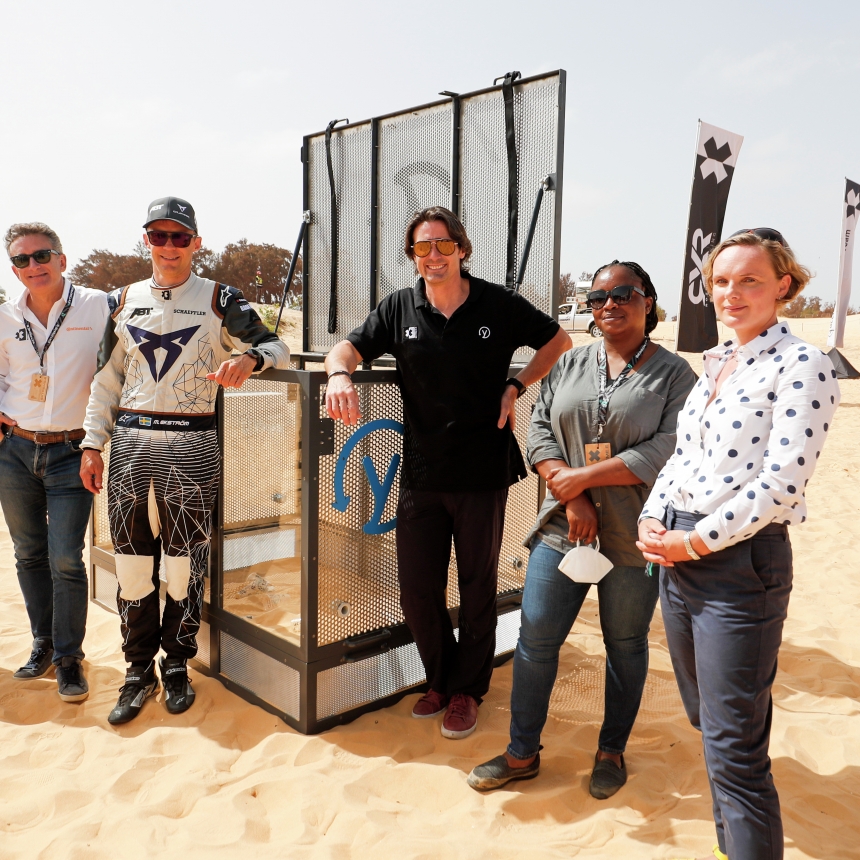 Extreme E, the all-electric off-road racing series, has launched a LivingLab at its Ocean X Prix location - Lac Rose, Dakar - to showcase LyfeCycle, a new solution from British Innovators Polymateria for tackling the global plastic pollution pandemic.
An estimated 32 per cent of all plastic packaging used globally does not get recycled or disposed of properly & winds up in nature and a staggering 80 per cent of plastic found in the ocean comes from this unmanaged waste on land. Traditional plastics last thousands of years in the environment without degrading.

Polymateria has created LyfeCycle, the world's first plastic that quickly and safely degrades in the natural environment leaving no toxins and microplastics behind. While the technology allows recycling to happen, it was specifically designed to target the types of plastics that are most likely to end up in nature.
Extreme E will use LyfeCycle cups, flexible films and cutlery during its Ocean X Prix event and will showcase how the products return to nature in real time through a LivingLab experiment as part of its legacy program.
Extreme E Founder Alejandro Agag came up with the concept of a LivingLab after learning about Polymateria's LyfeCycle technology. The LivingLab was built by Pinewood Studios outside London in order to meet the complex technical requirements of needing to fully facilitate the natural environment but protect the scientific integrity of the experiment as the plastic materials fully and safely biodegrade and capture all of this visually.
The LivingLab will be revealed this Friday in Dakar on the evening of the Ocean X Prix event. It is a 1800 x 1200 x 1200mm glass box, covered with perforated steel and an internal insect mesh. The top part of the LivingLab allows for light, air and moisture to pass freely but ensures insects are kept out. The base is made porous so water, microbes and small creatures such as earthworms can pass through. During the Ocean X Prix, the LivingLab will be filled with soil from the racing course and used LyfeCycle products. Over the coming months the experiment will be closely studied by a group of independent scientists who will report their findings on the effectiveness of LyfeCycle technology.
Alejandro Agag, Founder and CEO of Extreme E said: "When I learned about all the scientific rigour behind LyfeCycle I wanted to find a way to make it accessible to people so the world can start to understand and believe in the solutions.
"Plastic pollution is a major global problem and with 12 million tonnes of plastic being poured into our ocean every year, this innovation from Polymateria offers a true solution to this issue. I'm delighted to be working together to showcase solutions to the global climate crisis and to reveal this LivingLab at our Ocean X Prix here in Senegal."
Niall Dunne, CEO of Polymateria said: "When Alejandro challenged us with the LivingLab concept we turned to the team at Pinewood Studios as their experience building complex structures for blockbuster movies was the only place in Britain capable of delivering on a brief like that.
"It is fantastic to be here in Senegal showcasing this solution, which we truly believe can help solve the plight of plastic pollution facing the world today."
The Regional Ecotoxicology and Environmental Safety Research Center of Dakar in Sénégal will manage the LivingLab after the Ocean X Prix and provide independent testing and validation of the biodegradation of the materials along with streaming the experiment on LyfeCycle.com.
Papa Sam Guèye, Director at The Regional Ecotoxicology and Environmental Safety Research Center of Dakar said : "We are excited to be working with Extreme E and Polymateria to showcase real world solutions and validate the full and safe biodegradation of these materials, focusing specifically on the ecotoxilogical effects."
The plastic pollution crisis is threatening marine life, ocean health, food safety and quality, human health and coastal tourism. It is just one of the issues Extreme E is highlighting during its Ocean X Prix, particularly through its Legacy Programme with EcoZone's EcoBriques project where communities are producing ecobriques - PET bottles filled up with dry and non-recyclable waste, mainly post-consumer plastics - which will divert over 40 tonnes of waste from the landfill by engaging communities in ecological waste management practices and eco construction.
Extreme E's Ocean X Prix race action kicks off tomorrow with qualifying sessions, before the Semi-Finals and Final on Sunday 30 May, all to be aired through a number of global broadcasters available to view here. Nine teams featuring some of the biggest names in motorsport including team founders and Formula One Champions Sir Lewis Hamilton, Nico Rosberg and Jenson Button, plus drivers Carlos Sainz Snr., Jamie Chadwick, Sébastien Loeb and Laia Sanz will all be competing for the winners title and Championship points.