Extreme E - the story off the course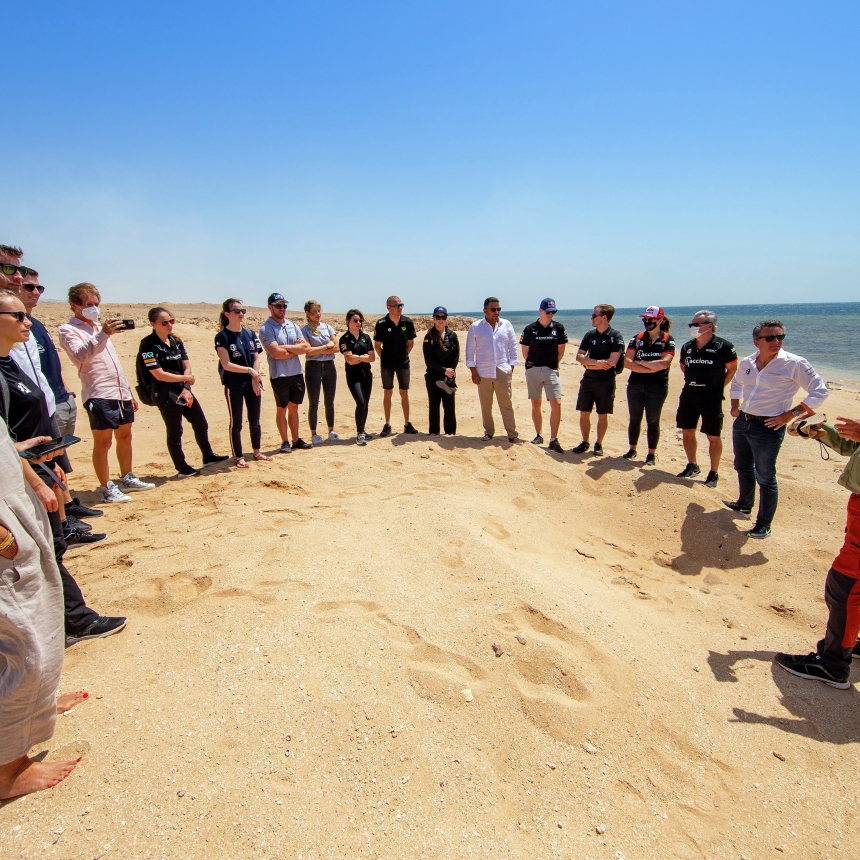 Extreme E completed its inaugural X Prix last weekend in AlUla, Saudi Arabia with Rosberg X Racing taking victory. But maybe the real victory was what the championship did off the course around climate change – one of the main drivers behind this unique sport for purpose.
Extreme E is a series with a mission, to highlight the devastating effects of the climate crisis and demonstrate positive steps that can be taken to protect the planet. It has selected five remote locations for its X Prixs, with the first completed in AlUla, Saudi Arabia, which was chosen to highlight desertification, where biological productivity is lost.
Alejandro Agag, Founder and CEO of Extreme E, said: "It has been two years in the making, but I'm thrilled that Extreme E's first X Prix – the Desert X Prix – is complete.
"The weekend delivered on its promise of exciting racing, but more importantly our mission to race without a trace and leave a long-lasting positive impact. I'm very proud of what we have achieved in Saudi Arabia, from our talks on the St. Helena by world-renowned scientists focussing on the global climate crisis and solutions, through to our turtle conservation project with the Ba'a Foundation.
"Extreme E is much, much more than just motorsport and I hope people have taken away from it that the climate crisis is a major issue we are facing right now, and that there are many small actions we can take to save the planet."
Legacy Programme
At each of the race locations, Extreme E will leave a long-lasting positive impact through its Legacy Programmes. In Saudi Arabia, the series joined forces with the Ba'a Foundation to support turtle conservation along the Red Sea coastline.
Specifically, the Programme centres around protecting the endangered Green turtle and critically endangered Hawksbill turtle, which are under threat for a variety of reasons including entanglement in fishing gear, coastal developments and climate change causing rising sand temperatures and flooding of turtle nests by rising seas.
The project was revealed on-board the St. Helena by members of Extreme E's Scientific Committee, which was followed by a visit to Ras Baridi - the location at which the initiative will be focussed – where many of the championship's drivers including Jenson Button, Sara Price and Jamie Chadwick joined for a beach clean.
St. Helena
The championship's floating centrepiece, the St. Helena, took centre stage in the Red Sea and hosted a number of workshops ahead of the inaugural X Prix focussing not only on the Legacy Programme, but also the wider climate change issue as well as solutions.
Guests were able to hear from some of the most respected scientists in the world including Professor Mani Sararhy (King Abdullah University of Science and Technology - KAUST), Roland Kaeppner (NEOM), Altynay Kaidarova (KAUST), Dr. Shannon Klein (KAUST), Extreme E's Scientific Committee member Professor Richard Washington and newly-appointed Professor Carlos Duarte. The experts spoke not only about climate issues and impact, but also the solutions and steps we can all take to help our planet.
In addition, a panel discussion about a holistic approach to climate and environmental stewardship was moderated by HRH Princess Mashael Alshalan and HRH Princess Noura Turki Al Saud.
Richard Washington, Member of Extreme E's Scientific Committee, said: "Accepting the invitation to be involved as a scientist in Extreme E took all of 30 seconds. Inspired projects like this only come your way once in a blue moon.
"Racing electric vehicles powered by 100 per cent clean energy in hot and dusty extreme desert environments is the sort of demonstration we need to accelerate the adoption of new climate friendly technologies. Sport strives to break boundaries, to cross seemingly impossible thresholds, often in a team setting. That is also what we need to do to solve the climate problem. Extreme E is a convergence of these endeavours."
Scientists that have been selected by Extreme E and its Founding Scientific Partner, Enel Foundation, are set to board the ship for its next leg. During the journey, they will conduct research in the St. Helena's on-board laboratory to advance knowledge of the consequences of climate change and adaptation and mitigation strategies on the world's oceans and the planet. These projects will be announced in the coming weeks.
Hydrogen Fuel Cell
AFC Energy, which provides the championship's hydrogen fuel cell – enabling the fleet of ODYSSEY 21s to be charged emission-free – used the Desert X Prix to sign a Memorandum of Understanding with Altaaqa, owner and operator of one of the world's largest mobile diesel generator rental fleets. This will support the transition of the region's power generation industry to zero emission solutions using AFC Energy's hydrogen fuel cell technology.
The agreement places Altaaqa at the forefront of industry's transition away from highly pollutant diesel engines and consolidates AFC Energy's position as the market leader in the provision of zero-emission off-grid temporary power generation. It also supports the Kingdom's Vision 2030 strategic framework to reduce its reliance on fossil fuels and associated power generation, and goes to show the power of sport in highlighting environmental issues and viable technology solutions for a cleaner world.
Sustainability
There were many measures put in place to ensure Extreme E would be the most sustainable sport possible, from zero single-use plastic on-site, communal water stations so reusable bottles could be filled, sustainable and biodegradable food packaging from Polymateria, and even bin police to ensure people were recycling properly.
Water extraction and consumption was also a high consideration, and Extreme E worked with local companies for its water supply and utilised water generated from its hydrogen fuel cells for car cleaning, with any excess water shared amongst local communities.
This process of ensuring Extreme E races without a trace started many months ago. In association with EY, the championship's Official Innovation Partner, the two organisations worked together to complete a Social and Environmental Impact Assessment alongside the Royal Commission for AlUla (RCU), with these findings informing the way the Desert X Prix was managed.
Phillip Jones, Chief Management and Marketing Officer, Royal Commission for AlUla, said: "AlUla was excited to be part of the inaugural Extreme E race and to showcase the destination alongside our vision to create a tourism eco-system that protects and conserves the environment. It is always enjoyable seeing the reactions of international visitors when they first experience our nature, heritage and culture."
Extreme E Count Us In Challenge
The Extreme E Count Us In Challenge was launched last month, and enables fans to take practical steps on climate change to reduce their carbon footprint. In just three weeks, over 300 fans have already committed to take action to lead a less carbon-intensive life.
But this leaderboard isn't just a race for the planet, as the team with the most fans pledging their support will receive the Extreme E Sustainability Award at the end of the year, and X44 currently tops the table.
Extreme E's next event is the Ocean X Prix, which takes place from 29-30 May at Lac Rose, Senegal, Dakar.