ABT confirms Mattias Ekström as male driver and CUPRA as main partner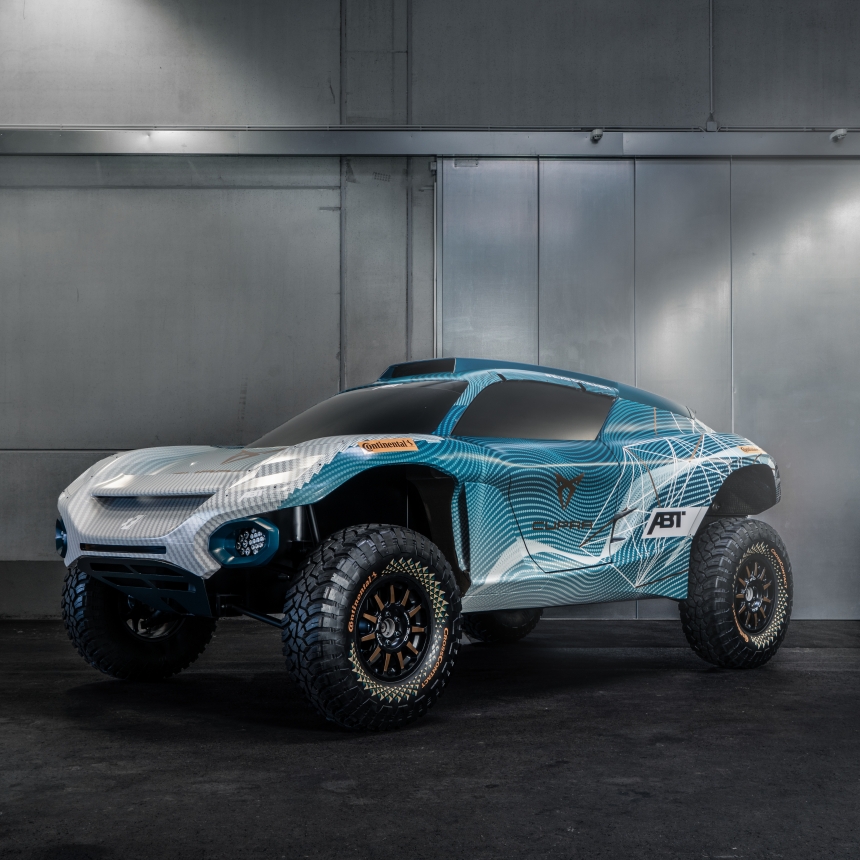 ABT Sportsline has today confirmed Mattias Ekström as its male driver and CUPRA as its main partner in Extreme E, the pioneering electric off-road racing series which commences early next year.
The announcement was made at the official opening of the first CUPRA Garage in Europe in Hamburg, Germany, where the team's ODYSSEY 21 show car – bearing its striking CUPRA design – made its world premiere.
Alejandro Agag, Founder and CEO of Extreme E, commented: "We're delighted to welcome CUPRA on-board as Extreme E's first automotive partner, an announcement that truly underscores ABT Sportsline's commitment to the series. Both brands are trailblazers in the domain of electrification, and this marks another step in the right direction towards sparking a genuine change in the wider automotive market.
"It is also great news to confirm Mattias Ekström as a driver for Extreme E's first season in 2021. His racing record speaks for itself, and having proven his ability in touring cars and rallycross, I have no doubt that he will rapidly get to grips with both the ODYSSEY 21 and the unique challenge posed by Extreme E. I look forward to seeing him in action."
One of the world's most versatile racing drivers, Ekström will make his return to ABT Sportsline for the first time in three years. From 2001 to 2017, the Swede competed for the team in the high-profile, pan-European DTM touring car series, clinching the crown in both 2004 and 2007 and finishing inside the top three in the standings on seven further occasions.
In evidence of his all-round capabilities, Ekström also won the FIA World Rallycross Championship in 2016, going on to finish runner-up in each of the following two seasons, and he is now preparing to put that diverse skillset to use in international motor racing's most exciting, innovative and spectacular new series. In line with Extreme E's commitment to gender equality, his female team-mate will be confirmed at a later date.
Mattias Ekström, ABT driver, commented: "It feels a bit like coming home. Twenty years ago, the DTM was a great challenge which we mastered together. Now, it is high time for a new adventure – Extreme E. I think the concept is ingenious, and I am sure that we have a strong team together with CUPRA and ABT."
Ekström has been an ambassador for CUPRA for the past year, and in joining forces with ABT in Extreme E, the sporty Spanish brand becomes the first automotive manufacturer to enter the series and will contribute to lining up a team of engineers for the electric odyssey.
Wayne Griffiths, CUPRA CEO, said: "CUPRA and ABT Sportsline are long-term partners. We both aim to transfer the passion of the track onto the streets, and we have wide experience in the world of e-racing. Now we are reinforcing our partnership with our joint participation in Extreme E, which for CUPRA represents the brand's challenger attitude in the racing world and its ambition to explore new motorsport experiences."
Dr. Werner Tietz, SEAT Executive Vice-President for R&D, added: "The decision to become the first automotive manufacturer to participate in Extreme E and reinforce our co-operation with ABT is proof of both partners' shared vision of re-inventing the world of high-performance cars through electrification."
The co-operation between CUPRA and ABT Sportsline began in 2018, focussing initially on the refinement of road cars, and both brands have considerable experience and expertise in electric motorsport. CUPRA developed the world's first all-electric touring car, the CUPRA e-Racer, while ABT was a founding member of the FIA Formula E Championship, winning the Drivers' title with Lucas Di Grassi in 2016/17 and the Teams' title for Audi the following season.
Indeed, electric mobility and sustainability have been a staple of daily business at ABT Sportsline for the past decade, with subsidiary ABT e-Line developing and producing electrified versions of the Caddy and Transporter models in conjunction with Volkswagen Commercial Vehicles.
Hans-Jürgen Abt, Managing Partner of ABT Sportsline, said: "We love innovation, competition, e-mobility and the feeling of being a pioneer in something completely new. That is why we were involved in Formula E from the very beginning in 2014 and why we also decided to become a member of the Extreme E family. With CUPRA, we now have a partner at our side who, just like us, firmly believes in the revolutionary concept, both in the sporting field and in terms of marketing off the track."
Set to begin in early 2021, Extreme E's inaugural season will be staged across five remote environments featuring Arctic, Desert, Rainforest, Glacier and Ocean locations. Selecting places that have already been damaged or affected by climate change issues, the races will draw attention to the challenges of these diverse ecosystems while demonstrating the performance of purely electric SUVs. The five-event global voyage will utilise its international sporting platform for the purpose of promoting electrification, environment and equality.