Sandell signs up to Extreme E Drivers' Programme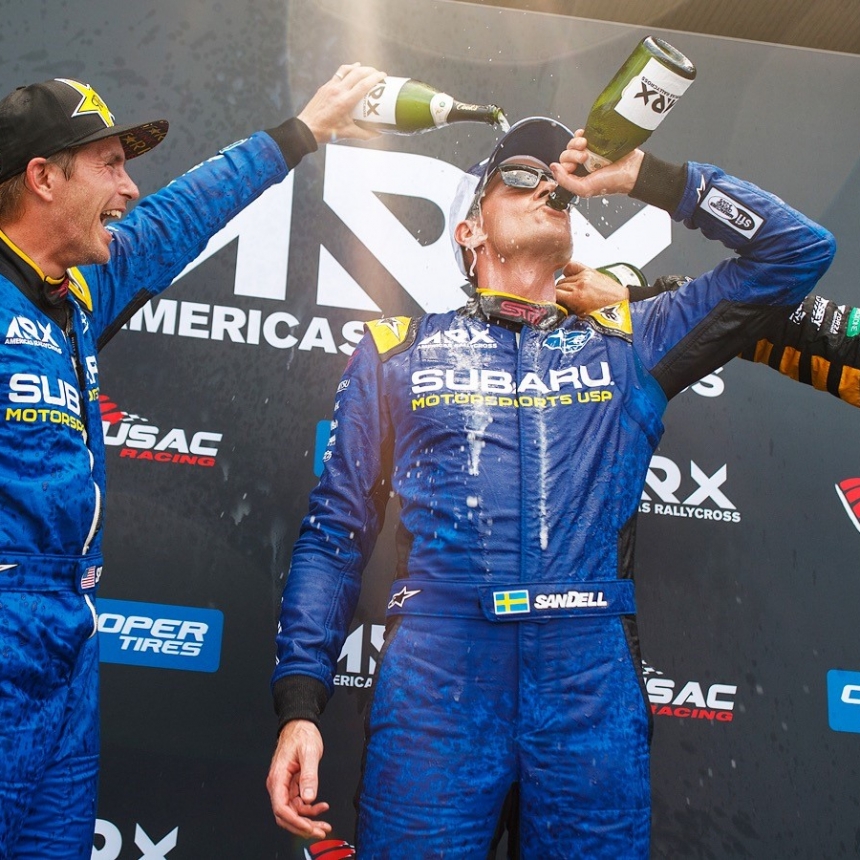 Rally and rallycross star Patrik Sandell has signalled his intent by joining Extreme E's Drivers' Programme ­– a roster of top-tier motorsport names looking to compete in Season 1 from January next year.

The Swede currently competes as a factory driver for Subaru Motorsports USA – a marque synonymous with world title-winning success on the stages of the FIA World Rally Championship and beyond. Sandell has reached the top step of the podium on a number of occasions in Global Rallycross between 2013 and 2017, before moving into the North American ARX series.

Sandell turned his hand to motorsport in his teens, with a rallycross debut at 16 and his first stage rally a year later. From there, he secured the Swedish Junior title in 2004 and the Group N3 championship in 2005. A step up to the Junior World Rally Championship followed in 2006 and Sandell immediately stamped his authority, sealing overall honours before several seasons competing in the WRC.

The 37-year-old feels his mix of stage and rallycross experience is the perfect cocktail for success in Extreme E.

"With my cross-discipline background, I believe I have the potential to be a front-runner in this series if I will be racing in it," said Sandell. "From competing all-over the world, I have first-hand knowledge of the different surfaces that the Extreme E calendar offers up, and rallycross has taught me the door-to-door racecraft and how to handle dynamic, intense race formats such as this."

"Extreme E feels like a thrilling extension of off-road racing and a real look into the future of motorsport," continued Sandell. "There are electric series' in the works but this championship, in my opinion, is by far the most exciting and challenging one."

Extreme E is set to break the mould in motorsport and entertainment with its E-SUVs racing across five of the world's most remote and formidable environments that have already been affected by climate change or human influences. The aim: raising awareness, driving sustainability and inspiring action.

Sandell has seen first hand, both at home and abroad, the impacts climate change can have on locations and communities. He feels Extreme E's goals will mean he can help make a difference.

"Not only do I believe in the sporting offering and the racing format, but I also feel very strongly about the sustainability initiatives and goals that are central to Extreme E," he added.

"Where I grew up, in northern Sweden, I think that we are just beginning to see the effects of our changing climate. Throughout my career I've traveled the world and seen places and societies far more affected than we have been so far.

"I feel that we all have a responsibility for what is happening, and that everyone needs to contribute to a better future. Extreme E is one of the ways I can make a real difference."

The series' E-SUV – ODYSSEY 21 – made its public debut back at the Goodwood Festival of Speed in July 2019. This was followed by a subsequent outing at the 2020 Dakar Rally in the hands of social media and Gymkhana hero Ken Block, leaving Sandell eager to get behind the wheel for himself.

"Everything I've seen of the E-SUV looks absolutely awesome, and I'm very excited to test the car as soon as possible," said Sandell. "I believe I have the tools needed to run right at the sharp end of this new series, but as for everyone else, there will be things that will be new to me.

"I would say that getting to grips with the character and difference in drivability of the electric drivetrain will be the most interesting task, but I'm sure if I will participate that with a great team around me we will figure that part out pretty quickly!"

The Drivers' Programme is designed to promote professional drivers and assist teams and prospective entries, series organisers will recommend prospective competitors from its Drivers' Programme, however, if teams prefer, they will have the autonomy to select their own drivers from outside the pool. Last week,

Extreme E unveiled its Scientific Committee - which will be tasked with driving the series' climate research and education programme - led by world-leading University of Cambridge academic Professor Peter Wadhams. Further sporting, commercial and broadcast announcements will follow in the coming weeks as Extreme E builds towards its January 2021 start-date.