Three positives achieved off-course in NEOM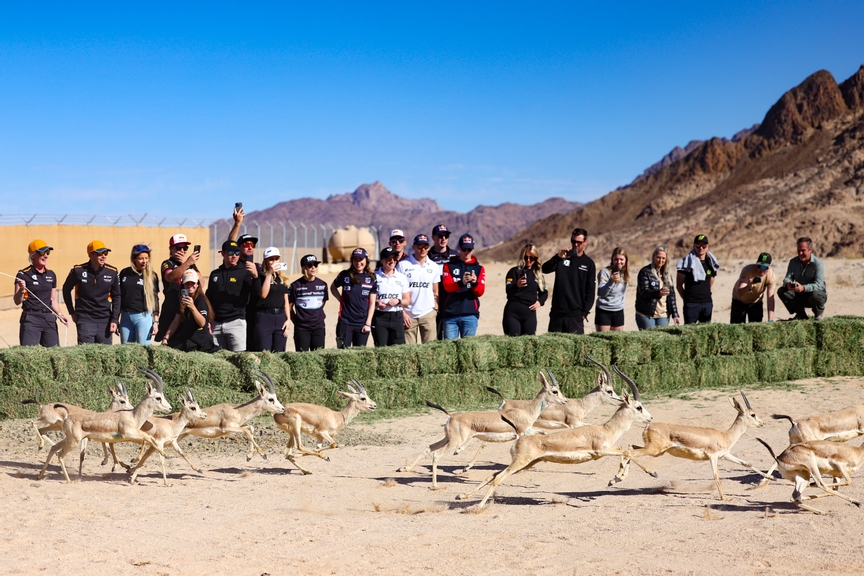 The pioneering racing series, Extreme E, has just completed its action-packed debut of Season 3, which saw the championship return to NEOM, Saudi Arabia, for the second consecutive year
True to the series' values, the opening event offered far more than just a thrilling wheel-to-wheel spectacle - despite launching an all-new race format.

Away from the track, Extreme E's drivers, scientists, and partners worked hard to support the championship's sustainability and innovation initiatives in the local area, designed to complement NEOM 2030 in this instance.

NEOM is the centrepiece of Saudi Arabia's Vision 2030, a plan to grow and diversify the Saudi economy and position the country as a leader in global sustainable development.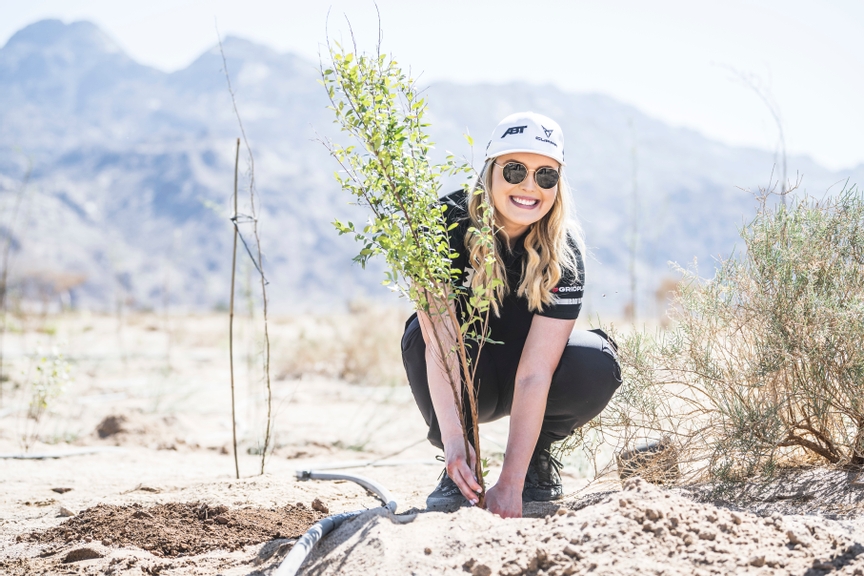 Legacy Programme

Ahead of the Desert X Prix, the sport for purpose championship embarked on its latest Legacy Programme. This took a two-pronged approach, supporting both the rewilding and regreening efforts in the developing region located in northwest Saudi Arabia.

Extreme E's drivers and staff travelled to NEOM's Nature Reserve to assist in the momentous release of Red Necked ostriches, and Arabian Sand gazelles - species that have not roamed freely there for over a century.

Resettling these native species marked a significant step in NEOM's wider nature restoration efforts that started in 2022.

With a commitment to protect and enhance biodiversity, rejuvenate natural habitats, reintroduce native species and regreen the environment, 95 per cent of NEOM's land will be reserved for nature conservation, making it one of the largest rewilding programmes in the world at 25,000km².

This latest Legacy Project from Extreme E will help the surrounding ecosystems reset to a time when the landscape was healthier and self-sustaining.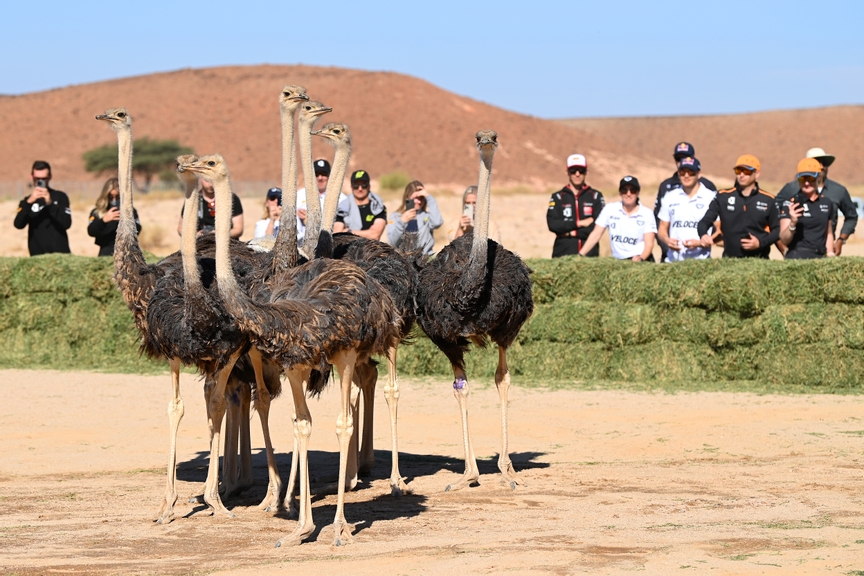 Tipping Point

Extreme E's visit to NEOM was also the perfect opportunity to feature multiple Tipping Point talks centred around the NEOM ecosystems and environment, as well as the lessons that can be learned for a more sustainable future.

These engaging talks feature at all Extreme E events, provoking thoughts and discussion around environmental issues and sustainable alternatives.

Saturday saw Professor Carlos Duarte discuss the decline of coral reefs, and what can be done to stop it, in a talk titled the 'Future of Coral Reefs'. This included a deep dive into NEOM's partnership with KAUST, which has promised to create the world's largest coral garden.

Carlos Duarte, Professor of Marine Science at the King Abdullah University of Science and Technology (KAUST) and Head of Extreme E's Scientific Committee, said: "Coral reefs are the tropical forest of the ocean, home to 3 in every 4 species and providing livelihoods and coastal protection for over 1 billion people. Yet, we have lost about half of coral reefs globally and climate change threatens with leading to the loss of much of the remaining. An ocean devoid of coral reefs is not an acceptable legacy for our children.

"To avoid this future, we need better tools to conserve and rebuild coral reefs globally. This requires investments in science and technology and to apply these tools at scale."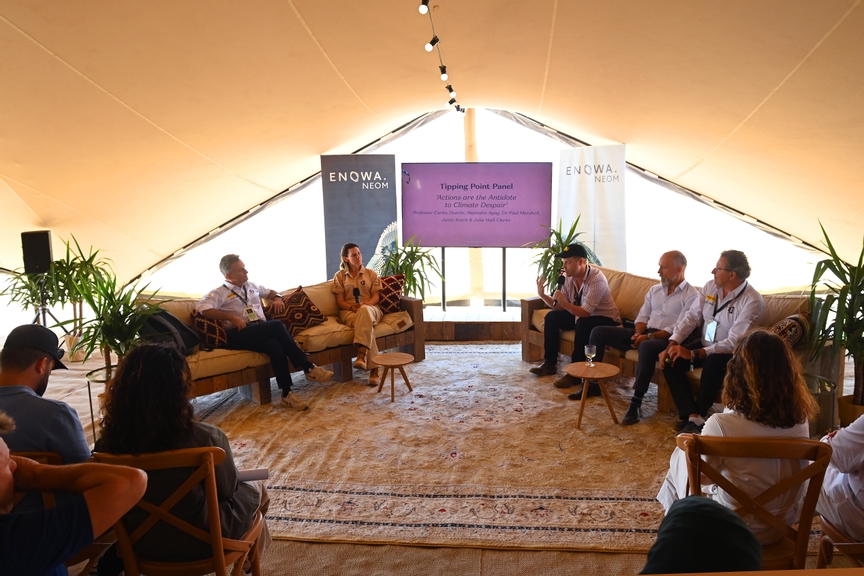 This was accompanied by further discussions around hydrogen and the role it will play in mobility, with a focus on how actions are the antidote to climate despair.

Representatives from Extreme E Green Hydrogen Power Partner, ENOWA, joined the first talk to cover the topic of hydrogen, its sustainable potential, and how they created the first mobile model of a hydrogen fuel cell system for this race.

The second talk saw Professor Duarte joined by Series Founder and CEO, Alejandro Agag, Julia Wall-Clarke and James Taylor from Extreme E, as well as NEOM's Dr Paul Marshall and Jamie Keech from Vida Carbon. Together the group discussed the process of undertaking legacy projects, the future of Extreme E, and why Vida Carbon wanted to be a partner to X44.

ENOWA hydrogen fuel cell system

Hydrogen was not just a discussion point in talks. In fact, the Desert X Prix saw the successful first test of a new and innovative fuel cell system provided by ENOWA.

Green hydrogen is widely seen as the most promising energy carrier in the push for positive climate action. This technology supports the transportation of renewable energy over long distances and the decarbonisation of major industries and infrastructure.

The ENOWA Hydrogen Fuel Cell system is a cutting-edge, low-carbon, off-grid energy technology, delivering a reliable hydrogen-based power solution for remote sites.

Based on technical specifications developed by ENOWA, the unique system is one of the world's largest commercial operating fuel cells, with 'first of its kind' combined functions.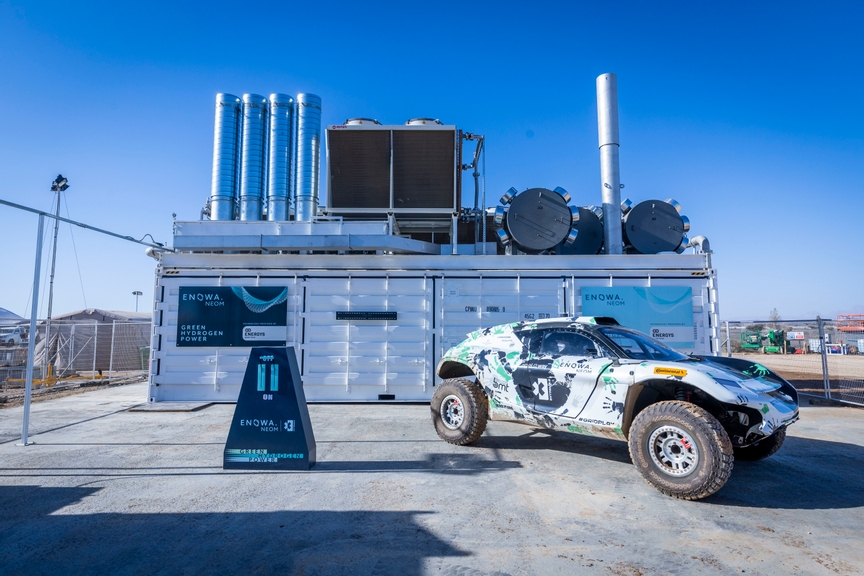 Some of the unique technical features of the ENOWA Hydrogen Fuel Cell system include:
recovering condensate to reuse during car washing on site
a bespoke filtration system, allowing the Fuel Cell to operate in very sandy and dusty conditions
and a unique cooling integration to operate at high temperatures of up to 50 degrees Celsius for net power output
The ENOWA Hydrogen Fuel Cell system will remain in NEOM, powering more than 400 units in the region and is crucial to NEOM's plans and Vision 2030.

The implementation of ENOWA's Hydrogen Fuel Cell system is another step the series has undertaken to push the boundaries of sustainability and entertainment. It further reiterates Extreme E's commitment to showcasing the possibilities of new technologies in the race to fight climate issues.

The pioneering series now prepares for the second round of Extreme E Season 3, which gets underway in Scotland on 13-14 March 2023.