Drivers' Programme profiles: Mikaela Åhlin-Kottulinsky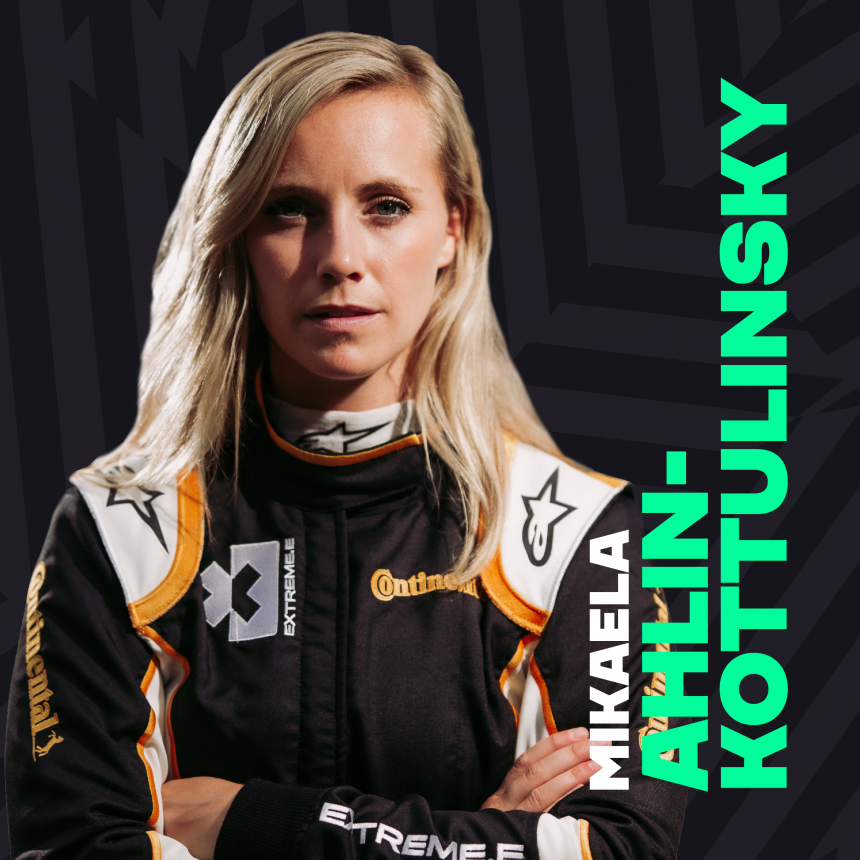 Mikaela Åhlin-Kottulinsky says that Extreme E appeals to her 'on two different levels', as she relishes the innovative new series' unique off-road challenge while closely identifying with its committed environmental ethos.
A pioneer in her own right, in the early stages of her career, Åhlin-Kottulinsky finished second in the FIA Women in Motorsport shoot-out, in so doing earning the opportunity to compete in the Volkswagen Scirocco R Cup.
The Swede subsequently became the first woman to win a race in a VW-supported series, and in 2018 repeated that feat in the Scandinavian Touring Car Championship. Her varied experience also includes a stint with Audi Sport in ADAC GT Masters.
Åhlin-Kottulinsky works with Extreme E's Official Tyre Supplier and Founding Partner Continental Tyres as its Test Driver for the series. As such, she is one of only three members of the Drivers' Programme to have sampled the ODYSSEY 21 electric SUV, when she joined compatriots Timmy and Kevin Hansen in southern France last month for what she described as an encouraging and productive test. It is clear that she is enjoying Extreme E both inside and out of the cockpit.
"Extreme E appeals to me on two different levels," she revealed. "First of all, it's a completely new type of motorsport that's going to be really challenging, but also hugely interesting and exciting from both a driver and team point-of-view. I'm expecting it to be just what it says – extreme. An extreme form of motorsport, an extreme way of transporting the teams and cars all around the world – everything about Extreme E is going to be extreme.
"I'm super-happy to be a part of this project from the start and to have already driven the car and experienced the tyres. There's a huge difference between circuit racing and Extreme E. In circuit racing, it's all about the small details, whereas here it will be about working out the fastest route, avoiding the obstacles and reading the terrain. With limited testing, the ability to adapt quickly will be absolutely key.
"I'm really grateful for my previous rallycross experience but most of all my experience in ice-driving – I was ten-years-old when I first started – which teaches you a lot about car control. I think that will be really valuable and am happy to have that in my locker.
"The second aspect that attracts me to Extreme E is the environmental side. I remember when I was young, we always had snow at Christmas – that was never in doubt. In recent years, that hasn't been the case, which is down to environmental issues and climate change and I want to get it back. That might sound silly, but I think it shows what is going on here.
"In general, Scandinavia is a region where we are very aware of the choices we make and their consequences. When I was 15-years-old, I drove an electric scooter, and I was the one at home that was pushing for us to separate paper, plastics and so on.
"I was watching TV the other day, and every second commercial was about sustainability. Everybody knows that we have to do something about the world, but many people say, 'yeah, but it doesn't matter what I'm doing, I'm just one person'. The harsh reality is that if we don't do anything, there won't be a world to save in the years to come."
That is where Åhlin-Kottulinsky hopes Extreme E will have the greatest impact, through its positive legacy initiative and in broadcasting the message far and wide about the necessity to act now to preserve the planet for future generations to enjoy.
"In the end, if every single person makes a small change, that will add up to a huge difference for the whole world," the 26-year-old stressed. "That is what I believe Extreme E can do – generate excitement as well as awareness of what is happening all around the world due to climate change. Hopefully we can set an example – that's what I'm hoping this series can help to achieve."