Chip Ganassi Racing retains Kyle LeDuc and Sara Price for Season 2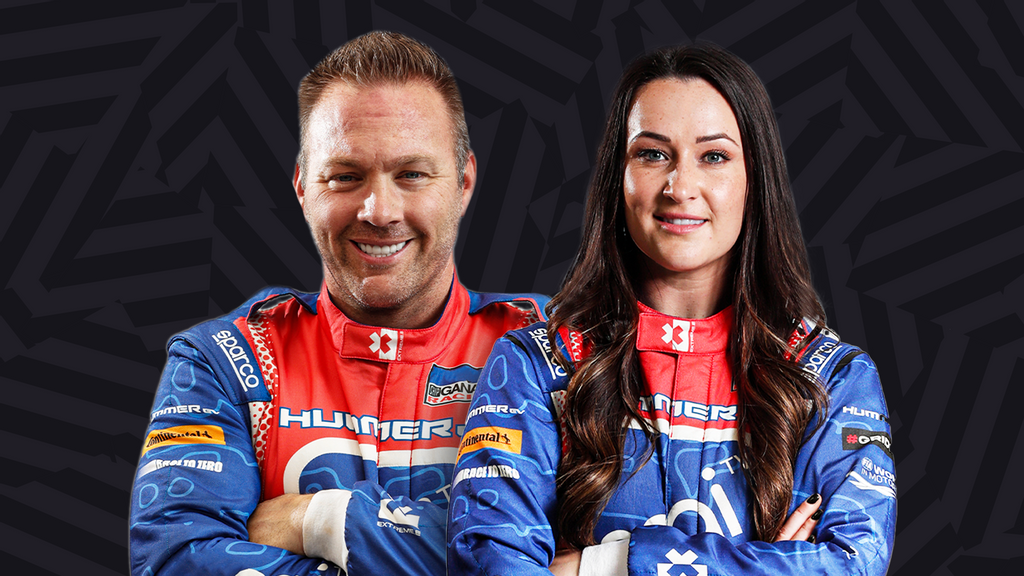 Chip Ganassi Racing has today announced that it will retain its Season 1 drivers, Kyle LeDuc and Sara Price, for Extreme E's second season.

With experienced off-road racers Price and LeDuc once again at the wheel for Chip Ganassi Racing, many will expect the American team to build on their Season 1 performances and challenge near the front of the pack in Season 2. Following a run of bad luck last year, the team and fans will be hoping for better fortune in 2022.

Extreme E Season 1 marked the Chip Ganassi Racing's debut in electric motorsport and they certainly made an entrance. The American duo's strong pace was clear enough, with LeDuc claiming the Ocean X Prix's Super Sector and five extra points for his team at the second event of the year.

Despite flashes of potential, technical troubles and ill-fortune hindered the team throughout the season. It looked like the team's luck would finally turn in the Enel X Island X Prix after reaching the Final and taking a lead going into the last lap, but their hopes of a dream victory ended with broken steering.

Their inaugural season ended at the Jurassic X Prix in Dorset, UK, where the American team managed to fend off XITE Energy Racing in both the Crazy Race and the Championship as a whole, finishing eighth in the standings with 74 points to XITE Energy Racing's 63.

Founded and helmed by former racer Chip Ganassi, the eponymously-named Chip Ganassi Racing celebrated its 30th anniversary in 2020. Over the past three decades, the team has claimed no fewer than 19 major titles and more than 220 race wins across a wide variety of motorsport disciplines – from INDYCAR to IMSA and NASCAR to the FIA World Endurance Championship – and in partnership with eight different manufacturers.

Kyle LeDuc, Chip Ganassi Racing, said: "I'm super pumped to be on board with Chip Ganassi Racing for the 2022 Extreme E series. We have taken what we learned in 2021 and ripped it to shreds to find the strong and the weak points and have addressed every issue with pinpoint accuracy. Sara and I will bring what's needed to be intensely competitive and bring the action the world expects from us, and we know we can deliver. I can't wait to get around the world and race in new locations, meet new people and learn what we can do as humans to fix issues around the world."

Sara Price, Chip Ganassi Racing, said: "I'm very excited to be with Chip Ganassi Racing for our second season in the Extreme E series. In our first season, our speed showed but the results weren't there. This is our redemption year. We are more than prepared, we've learned a lot, and it's time to show the world what we have. We have an incredible team behind us, and Kyle and I are two drivers ready for what's to come and showing the world what we are capable of."

LeDuc holds an astonishing record of six Pro 4 Championship wins and over 100 race victories in the Lucas Oil Off Road Racing Series. Nicknamed 'The Kid', he made history as the youngest active driver in off-road racing and took the title of 2003 Prolite World Champion. LeDuc's successes quickly moved him up from two-wheel drive to four-wheel drive as he entered the Pro 4 category in 2008, achieving his first win that same year. His first Pro 4 Championship title came in 2012, and he completed the 2020 season with his most recent championship triumph.

Price, a Californian who started her career on dirt bikes at the age of just eight, is a 19-time national champion who became Kawasaki's first factory-supported female motocross rider in history. Prior to making the switch to four-wheeled racing in 2012, she achieved a medal in Women's Super X at the X Games contest. In addition to her Extreme E commitments, Price currently works as a stunt professional, performing on motorcycles and in vehicles and as a precision driver for television and film.