RXR seal championship on count back, as X44 win dramatic Final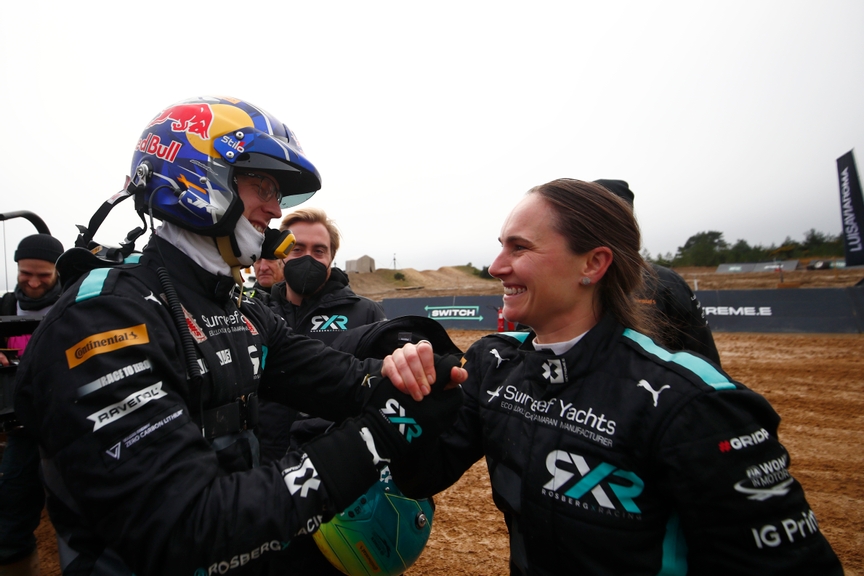 X44 claimed a maiden Extreme E victory at the Jurassic X Prix in Dorset, UK to tie level on points with Rosberg X Racing in the standings, but on wins count back, Rosberg X Racing secured the Extreme E Season One crown in a dramatic finale.
X44's Cristina Gutierrez made the best launch from the grid to lead the final from the start in the field of identical ODYSSEY 21 E-SUV machines, initially ahead of RXR's Molly Taylor and JBXE's Mikaela Ahlin-Kottulinsky.
Running fourth, Andretti United Extreme E's Catie Munnings passed Ahlin-Kottulinsky early on the opening lap, but Ahlin-Kottulinsky battled back, passing both Munnings and then later Taylor to climb to second.
As Gutierrez pulled away out front, Munnings also passed Taylor around the outside at the Twins section of the track, Taylor dropping into the clutches of ACCIONA | Sainz Extreme E team's Laia Sanz.
Munnings closed the gap to Ahlin-Kottulinsky and was right on the rear of JBXE machine into the Switch Zone entry at the end of the second lap around the 3.8-kilometer route, but Munnings lost the car and had a spin, reverse needing to be selected to return to the correct direction.
With X44 in the lead, RXR needed to finish fourth to secure the title, but a spin for Sanz ahead of the Switch Zone made that fourth position more secure for Nico Rosberg's squad.
With Sebastien Loeb (X44), Kevin Hansen (JBXE), Timmy Hansen (Andretti United) and Johan Kristoffersson (RXR) at the wheel, the top four positions remained the same after the driver changes in the Switch Zone, and to the finish line. As Loeb won for X44, fourth position, 15 seconds off the lead, was enough for RXR to tie on points at the head of the order and claim the title by virtue of three wins to X44s one victory.
Meanwhile, by finishing second, JBXE secured third in the standings, beating Andretti United by just two points.