Drivers' Programme profiles: Kevin Hansen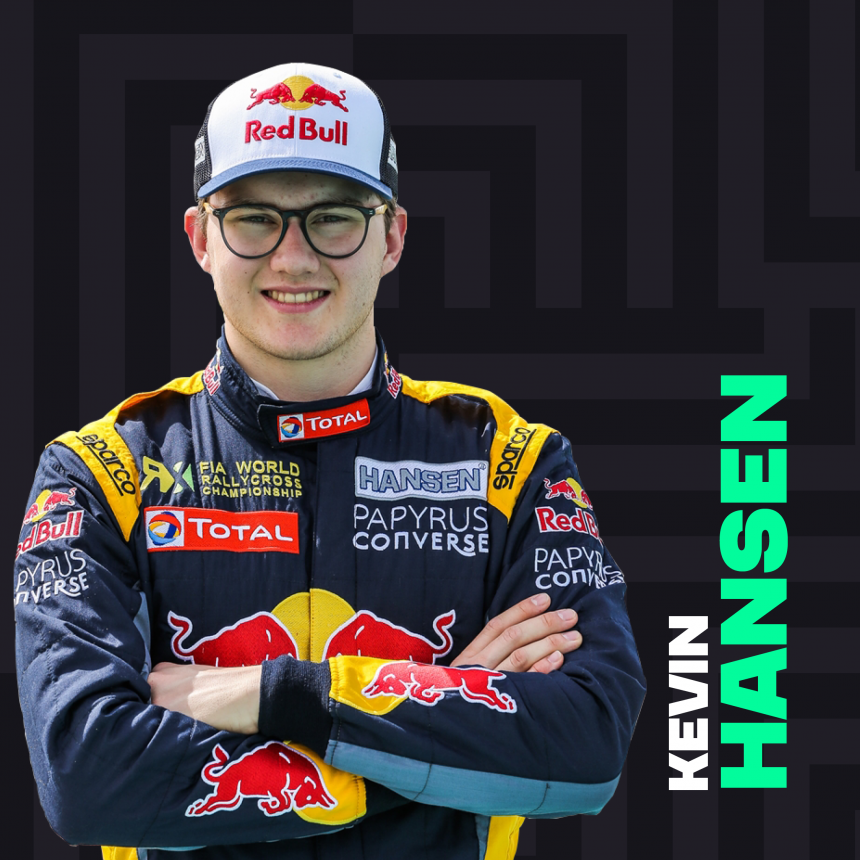 Kevin Hansen joins FIA World Rallycross rivals Andreas Bakkerud, and his brother Timmy, in the Extreme E Drivers' Programme, alongside a roster of world-class names.
Hansen has been a fixture in the upper echelons of the FIA World Rallycross Drivers' standings for a number of years, securing an event win and multiple podium finishes behind the wheel of a Peugeot 208 with Team Peugeot-Hansen, Team Peugeot Total and now Team Hansen MJP.
He's right in contention for the 2019 World RX title, battling two other Drivers' Programme members in his brother Timmy, and Andreas Bakkerud. Kevin raced to the 2019 Nitro World Games Rallycross crown.
Earlier in his career, the 21-year-old Swedish racer secured the 2015 RX2 title and won the 2016 FIA Rookie of the Year award for best up-and-coming driver across the governing body's championships following his FIA European Rallycross Championship win that year – the youngest driver ever to do so.
As soon as Hansen heard about Extreme E, he was keen to get involved. The premise of using top-tier motorsport to shine a spotlight on the human induced issues facing our planet and environments was the perfect combination.
"The first time I saw Extreme E was on social media and it immediately caught my eye as something we need motorsport to become – a tool to raise awareness and help improve the world," said Kevin. "That's what made me very interested.
"Then when I saw there was an opportunity to become a driver, I was doubly excited. The car's something entirely new and unique. Coming from a short track in rallycross to a longer circuit in Extreme E will be a tough jump.
"There will be two main factors that differ with the ODYSSEY 21. It's a big car, an SUV with long suspension travel. In rallycross, the cars are stiffer. A car that is higher and able to handle rough terrain means its characteristics will be very different.
"An electric car also offers something very different - immediate power through the whole range with lots of torque. It's a new challenge and something I relish - that is what racing drivers look for."
The Hansens are battling hard at the top of the World RX standings, with Timmy and Kevin each forming half of the family stable. Were the two to enter Extreme E, it'd be a shakeup for the pair to be pitted against each other.
"This is the first year that we've been at the same level, really," added Kevin. "I've always been in the younger categories heading towards the big leagues. We've had the same machinery in World RX, we've been together and it has gone really well.
"It'll be different not to be able to share all of the small details on the technical side. On the driver side we will be able to share things for sure but splitting the family team up will be very different for us all! First of all, let's hope we're both there competing in Extreme E, and then see how we handle the situation!"
Kevin also echoed his brother Timmy's sentiments on his feeling of responsibility in combating the problems facing our planet.
"We recently had a new family member, Timmy's son, and we feel he should have the same brilliant world that we have had growing up," continued Kevin. "The fight to make the world a better place is something that we all care about. Sea-level rise and global warming is a major issue for us all and we need to find a way of reversing these impacts. It's an important message to send to the people, and I'd be very proud to be involved."