Motorsport: the unexpected driver of sustainable transformation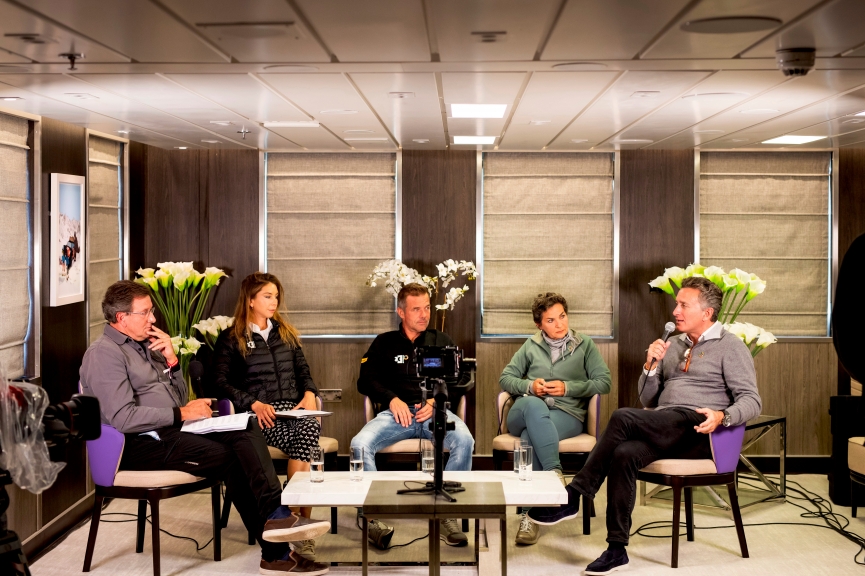 Motorsport and sustainability don't always go hand-in-hand, but new championships like Extreme E are setting out to do things differently and ask the question: can motorsport be an unexpected driver of sustainable transformation?
This question was put to a panel comprised of Extreme E Founder and CEO Alejandro Agag, Co-founder of Global Optimism and former Executive Secretary of the UNFCCC (2010-2016) Christiana Figueres, nine-time World Rally champion and driver for X44 Sébastien Loeb plus Extreme E Legacy Programme Leader Louisa Tholstrup at a discussion which took place as part of the Goals House schedule at UNGA 2021.
The discussion was filmed in a Greenlandic fjord on board the St. Helena ship during the recent Arctic X Prix, and explores how Sustainable Development Goals (SDGs) are the building blocks for the future of sport, how motorsport is unexpectedly leading the way for sustainability and how organisations like Extreme E hope to provide a template for a climate positive future.
The debate was moderated by Professor Carlos M. Duarte, Distinguished Professor, King Abdullah University of Science and Technology, and Extreme E Scientific Committee member.
With devastating wildfires, record heat and extreme flooding increasing globally, the world's leading scientists have confirmed the world is warmer now than at any time in the past 125,000 years. Global discussions at the United Nations General Assembly (UNGA) in New York in September will be a key milestone in the run up to this year's UN COP26 climate summit in Glasgow, with nations facing tense and difficult decisions ahead.
Here are just some of the comments the panellists made on the subject: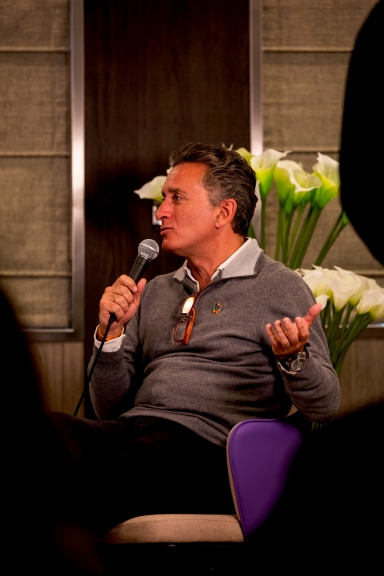 Alejandro Agag:
"We come to a time where transportation has to go through a revolution. Motorsport can play a role, the same way it was playing a role before in the evolution of combustion cars, it can play a role with this transformation of mobility and transportation. There are two elements, one is perception and the other is technology.
"Many people still have the perception that the only option they have is combustion, and motorsport can help change that perception. Bringing motorsport first to the cities with Formula E and now to the most remote corners of the planet with Extreme E can show that these cars can operate in every environment. That's the first objective or the first achievement that motorsport can have: to change the perception and to show everyone that they have other options for their transportation.
"And then there is technology, not only on the cars, which of course are the key element for technology development and specifically batteries in our case and hydrogen plays a role. But there are other technologies around motorsport that are also very relevant. For example, at Extreme E we have hydrogen fuel cells here and we are proving they can work anywhere around the planet. We're taking them to the arctic, the deserts in Saudi Arabia, and other very remote locations. Those are technologies that will be able to be applied not only to transportation but also to many other different applications."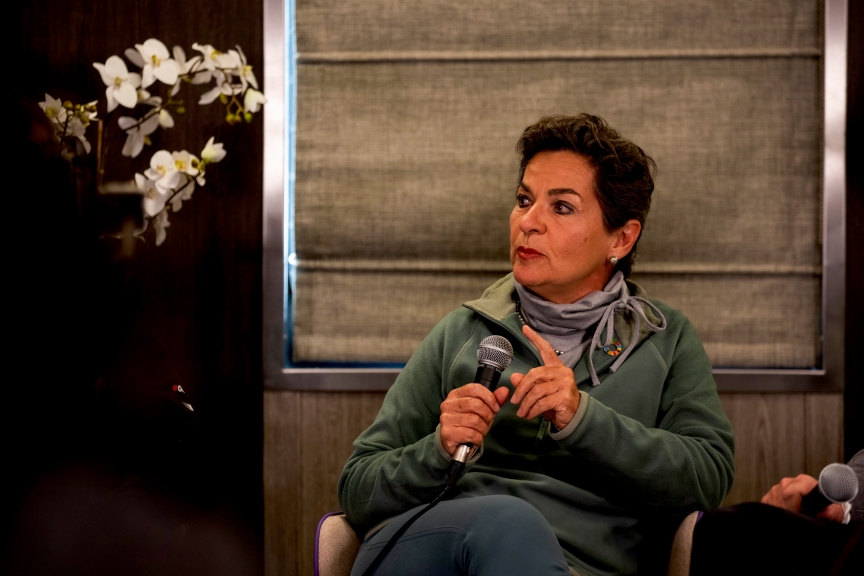 Christiana Figueres
"What Extreme E - and motorsports can and should be doing - is to be a much more important communication bridge. Carlos [Duarte] and I dedicate our lives to climate change and we can talk ourselves blue in the face, but we probably always address the same people in the policy, science and climate bubbles. The huge advantage that motorsports has is that you break totally through that bubble. By taking the message of climate change in such an understandable way, you help to disseminate and democratise a message that needs to be mainstream. It needs to be taken from the lab to the kitchen table."
"I think there are several realities that we're facing at the same time. No-one should say 'I didn't know'. If you didn't know it's because you didn't want to know, but scientists have been telling us for years. The first reality is the one science has been telling us about what is happening today and what will happen tomorrow if we continue on the path we are.
"The second reality that we have to take in is a very deep sense of grief and loss at everything that we have already lost and, frankly, anger. I was up at the ice cap today and I had to move away from everyone else and deal with my own grief and anger. Anger at my own generation because it's my own generation that has caused this. Our inability and our stubbornness of not engaging in climate action in a timely fashion is what has got us here today, no longer facing climate change but facing climate emergency and climate chaos. If we'd started decades ago we probably could have addressed it much more gradually, but now we're running out of time.
"For me, we have to bring in a third reality which has to be an act of choice. That's the reality of understanding that precisely because we're at a moment of such historical consequence in the evolution of the planet - or more importantly in the evolution of humankind - that we can no longer afford to simply sit back and that not only individually, but especially collectively, we have what it takes.
"No-one would have believed 10 years ago that you could race electric SUVs, but here we are. We have to get through our mental barriers, the fact is that the most difficult thing that we have against us on addressing climate change are the mental barriers that we have in our head."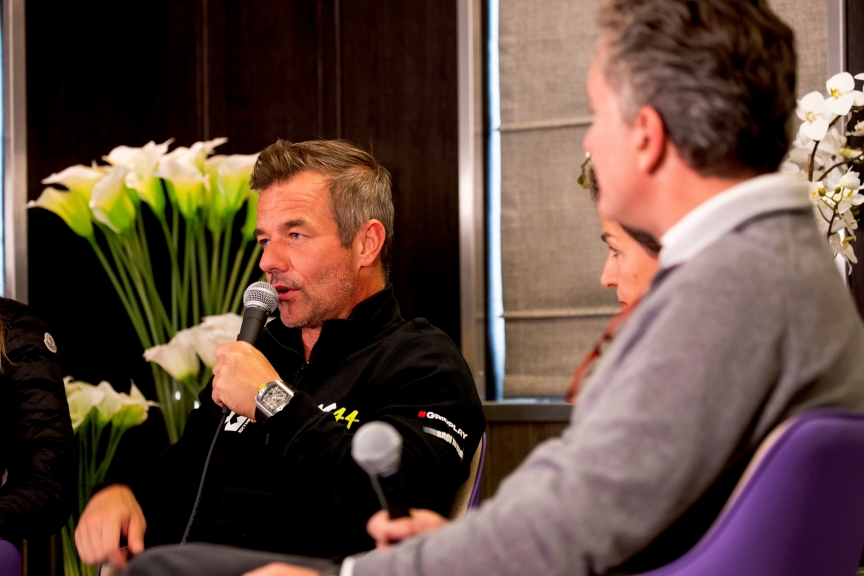 Sébastien Loeb
"I'm not really a climate activist, I'm a rally driver who is sensitive to climate change and the environment.
"I always enjoy discovering new disciplines in motorsport. First I did rally, then I went to racing, hillclimb, Rallycross and Dakar. When I saw Extreme E, I didn't really know what it was, but I thought that technology and the world is changing and motorsport has to change with it, moving to electric, new technologies. When I saw all the names associated with Extreme E, like my boss Lewis Hamilton, Nico Rosberg and Carlos Sainz I thought maybe it's the way to go."
"For me, driving an electric car is something new. At first I was a bit afraid, wondering how my feeling in the car will be. Will I feel the grip, will I feel the traction, will I hear the noise of the engine, what will happen? Since I began in motorsport, I have been used to having those things so I was a bit afraid to have no feeling in the car, like I might just be floating over the road, and that isn't the case. We really have a good feeling, and in our car we have some things to improve but the feeling between driver and engine is really natural. You still have the noise of the electric that gives you the information of the wheel speed, of the grip, of the traction you have. And that's the thing, I forgot about it immediately. It's really enjoyable to drive an electric car."
In each location Extreme E visits it leaves behind a long-lasting positive impact through its Legacy Programmes by working with local NGOs to try and support the issue the series is trying to mitigate.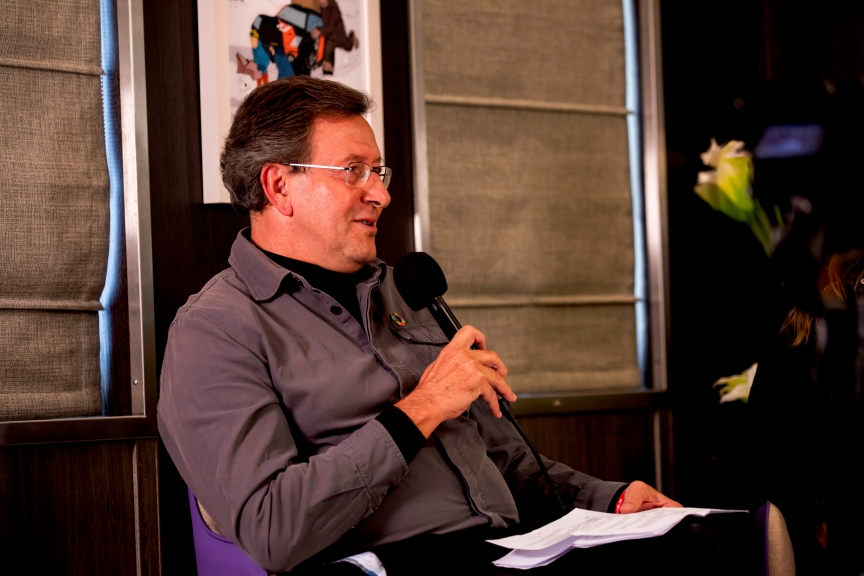 "In Greenland, Extreme E is deploying a project with UNICEF to promote climate awareness and literacy among children across the country," says Professor Carlos Duarte. "There was an event where schoolchildren had a discussion with drivers about the programme and asked them questions. One of the questions they asked was hard for me personally, which was 'when you were our age, what did you do to improve the climate for climate action?' When I was their age it was 1973 and I had no thought about the climate or any understanding that we humans could cause problems for the climate system. It's not just my ignorance, at that time there wasn't a problem because the problem has been largely created by my generation. So then that problem made me responsible and made me feel this responsibility towards those children, and feel an obligation towards them to deliver action."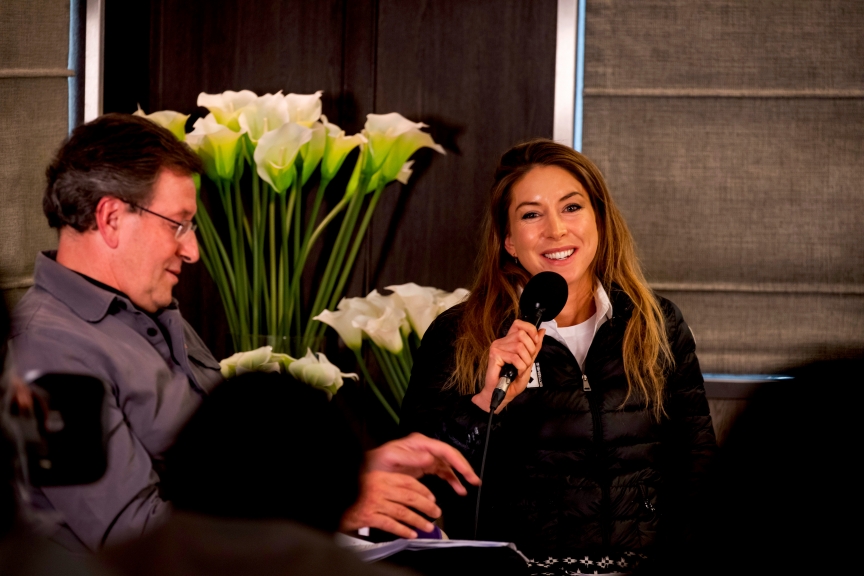 "We try and look for NGO's and projects that not only support environmental benefits but also provide economic and social benefits to those local communities," continues Louisa Tholstrup, who manages these initiatives. "For example, in Senegal we worked with an NGO called Oceanium to replant mangroves where there had been huge deforestation. Mangroves have a big impact in carbon sequestration, they provide coastal protection from sea level rise and storm surges. They also have a huge impact on the livelihoods of fisherman and farmers. Moreover, they provide nutrition and improve education in the importance of conserving local ecosystems as well as oceans, and life on land. I think mangroves are a great example of how many of the SDGs are so interlinked with each other, and how by setting out to achieve a specific goal you touch on so many others."
To recognise the UNGA week, freuds and its Brewery partners have forged a partnership with Soho House to produce a Goals House pop-up - a week-long series of events across global Soho House venues.
Extreme E's next event is the Island X Prix in Sardinia, Italy from 23-24 October where there will be further panel discussions surrounding climate change and the key drivers in rectifying and reducing impact on the planet by some of the key players in the world of science, business and motorsport.