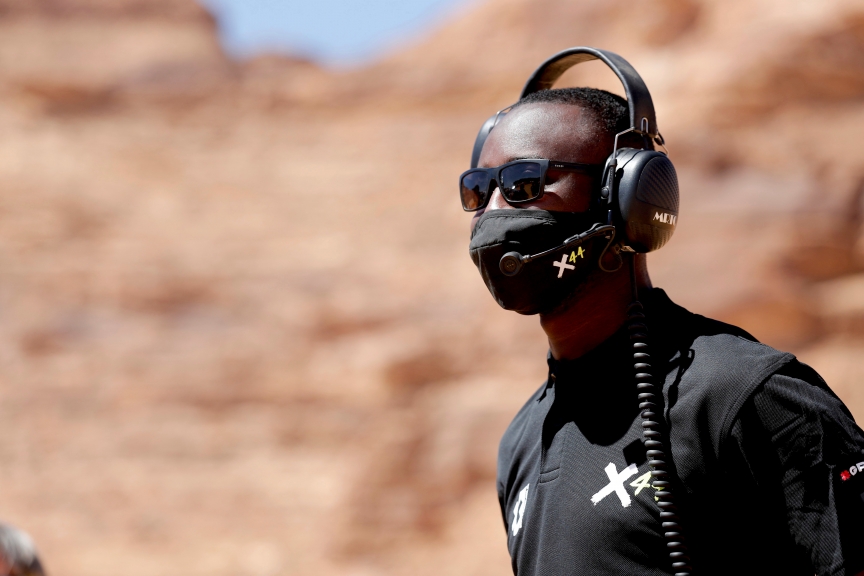 In conversation with X44's George Imafidon
The 24-year-old describes himself as a humanitarian engineer, who hopes to combine his love for people and technology to leave the world in a better place. Extreme E caught up with him about his journey to motorsport, his Extreme E experience so far and being part of The Hamilton Commission.
George starts by explaining how he got into motorsport, "I grew up fixing pedal bikes in my local area in Peckham, London, and I quickly joined karting because of my love for speed. There are many barriers to competing at the highest level, at times you could need upwards of £10,000 a year, and sadly my local go-karting track was closed down.
"I said that if I can't be in the car I'll help to build it, so I studied engineering at GCSE and absolutely loved it. When I got my exam results my teacher told me I was in the top 1 per cent in the country for the course, I thought maybe there is something here. Maybe my passion can lead to something.
"I secured a spot at University College London to study Mechanical Engineering and Programming and I led the Formula Student Team in my first and second year, which was essentially my first racing experience as an engineer. I was responsible for design, testing and manufacturing components to compete against hundreds of universities across Europe."
It wasn't long after graduating that George was approached to become part of The Hamilton Commission, a research partnership between Lewis Hamilton and The Royal Academy of Engineering which investigated the barriers preventing Black people from entering the UK motorsport industry. Through the Commission, and Lewis' team, the dream opportunity arose to be a Performance Engineer on X44 and have the chance to really shape the future of technology. George was inspired by the Extreme E series saying, "I don't see the point in doing the work if you're not going to leave things better than you found them and it felt like Extreme E could provide a platform for that."
George's role at a race weekend is to extract the most performance from the car using the data and liaise with the drivers and engineers to fine tune exactly what is important to hopefully come on top of the grid. He explains, "As the most junior member of the team I really like being a sponge, especially as this is my first experience within a race team outside of university. I'm learning all the time, but my main role is to analyse the data from the car and the engineers to determine the set up, as well as working with our drivers Cristina [Gutierrez] and Sébastien [Loeb] to ensure they have all the relevant information and confidence to maximise the car and improve our overall performance."
For George, being part of the X44 team is special. "It's not every day you have a seven-time Formula 1 World Champion as your team owner along with incredible drivers such as Cristina – the first woman to win a stage at the Dakar since 2005 - and Seb – a nine-time World Rally Champion" he says. "I believe we have the perfect pairing, a team of talented people who put in the work and expect to win championships and I guess that's what I'm here for."
He was in Saudi Arabia and Senegal for the Desert and Ocean X Prix events respectively – the first time he had ever visited both countries – and feels the racing has only got better from the sand and dust of Saudi Arabia to the beaches of Senegal, which offered more overtaking opportunities. "To be a part of history, the first ever Extreme E race, was incredible and I feel like I'm adding value to the team" he says. "We've been superb in qualifying and unfortunately had bad luck in the Finals, so the reliability of the car is still a work in progress but despite that we're improving, and we'll be going for the win next time."
And that next time is at the end of August in Kangerlussuaq, Greenland for the Arctic X Prix where the series will focus on issues of the climate crisis including the melting ice cap. George says, "It's going to be incredible to race on land which was once occupied by a glacier. That really is something else for me. It seems magical, to be able to see that, I think it would only contribute to increasing my passion in terms of the climate crisis and needing to fight it. We've seen the recent flooding in London, the adverse weather over the last few months – there is something going on and I think going to Greenland will give an opportunity to see it first-hand and hopefully be able to raise awareness and tackle it."
From an engineering perspective Greenland will present new challenges for the team as it's a new terrain "the set-up of the car will need to be considered from the springs to torque distribution to maximise the traction, but honestly who knows" says George. "A lot of our learnings come from testing when we actually get on the ground. Before that some things are challenging to predict because we've never been to these places as it's the first Season."
"Hopefully the weather in Greenland won't be as much of a challenge as it has been" he continues. "Both Saudi Arabia and Senegal were very hot which affected the batteries meaning we had to trim the power in order to avoid the battery overheating, so we might even be able to get some more action because Greenland should be considerably cooler.
"As engineers we always have calculated decisions to make, and with this new terrain we will have to look at the new conditions, the driver preferences and make the necessary trade-offs to allow for the most exciting race possible."
The weekend before Senegal, back in April, George was lucky enough to meet Prince William when he drove the ODYSSEY 21 at Knockhill in Scotland. The pair had conversations about the ODYSSEY 21 and what makes it unique, plus George's mission to be a humanitarian engineer which really resonated with the Prince. On his driving capabilities George comments, "His experience as an air ambulance pilot made him a natural and I'd very much like to be with him in the car next time to see his skills for myself in person."
George is also one of 14 Commissioners for The Hamilton Commission, which is chaired by Lewis Hamilton and Dr. Hayaatun Sillem CBE, CEO of the Royal Academy of Engineering. The commission's recently published report - that was created following interviews with over 700 Black, young people and 80+ motorsport stakeholders - highlights a number of actionable recommendations including apprenticeship opportunities, development of STEM education and support programmes.
Explaining a little more, George says, "Once you can get it right for this group who tend to be the most marginalised across the board, as we've seen from recent events, it's fairly transferrable in terms of the insights and learnings for other groups. Going through that process was very interesting. I was the youngest board member and we had regular meetings with both of the Chairs - Lewis [Hamilton] included – to discuss different experiences from education to motorsport to policy."
"There are ten exciting recommendations that I believe wholeheartedly will help young engineers like me on their journey" he continues. "We've suggested some that will continue to help me - and so many others that are underrepresented - to access motorsport. You've already seen action being taken by Lewis himself, through his Mission 44 foundation, as well as the likes of F1 that have recently announced some scholarships, internships and apprenticeships partly as a result of our work at The Hamilton Commission. It's great to see some action, but we are very much at the beginning of the journey of structural changes and there's so much more I would love to see across motorsport, more that I would love to see Extreme E do.
"Across the board I think there's work to be done, conversations to be had and I'm excited because we now have an evidence-based approach and we don't have to guess anymore. We won't have all the answers, and every context is different, but I'm very much keen to be at those tables and help us arrive at solutions that eventually open the door to people that are more than deserving of being there, and hopefully we'll bring more innovation to the sport."
He goes onto say, "Extreme E has focussed on gender equality which is a phenomenal start, and representation is key so I hope we can look at that from a racial perspective too. It's all about progress."
The X44 team is currently sitting in second spot in the overall championship standings behind Rosberg X Racing, and with just 15 points separating the pair, it's all to play for at the Arctic X Prix.