Extreme E teams up with award-winning sustainable brand GROUNDTRUTH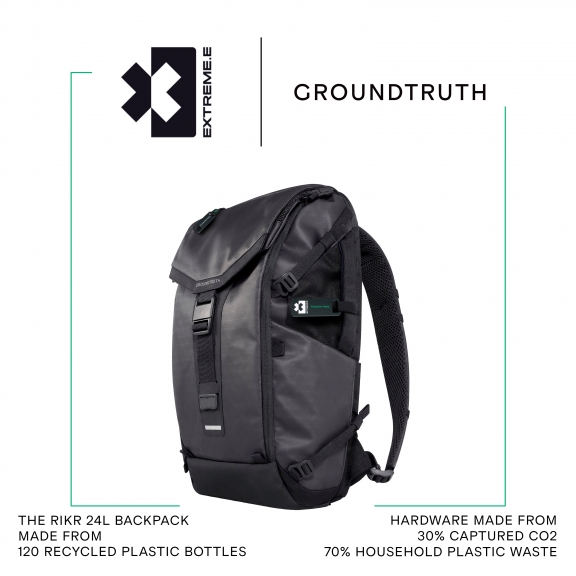 GROUNDTRUTH, the award-winning brand creating sustainable backpacks, accessories and expedition kits, will be supporting the 2021 Extreme E event team with a range of backpacks made from 100% recycled plastic and newly innovated captured CO2 - exclusive to the bag market.

Founded by sisters, Georgia, Nina and Sophia Scott, GROUNDTRUTH is inspired by Georgia and Sophia's years of travel and front-line experience as documentary filmmakers. Their film work put them in direct contact with a range of extreme conditions, from drought to conflict. These on the ground experiences sparked their collective ambition with sister Nina, a textile specialist, to create a company that could offer positive solutions for our planet.

The sisters have harnessed cutting edge technologies to develop their own sustainable materials. These include a bespoke ballistic weave textile made from plastic waste collected from landfills, waterways and oceans worldwide. Each GROUNDTRUTH backpack is crafted from 120 plastic bottles.

GROUNDTRUTH, along with their technology partners Carbon Upcycling Technologies, are now leading the way in creating circular lifecycles. By incorporating recycled polyethylene, i.e household plastic waste, with nanoparticles containing solidified atmospheric CO2 captured from the air - they are propelling the fashion and manufacturing industry forward.

Sophia Scott said: "We are delighted to be collaborating with Extreme E as we share the vision for actively helping to protect our planet. We are excited to be able to showcase these backpacks and our new CO2 developments on this fascinating world stage. We are constantly exploring the planet for new technologies to remain at the forefront of green innovation."

Extreme E Chief Marketing Officer, Ali Russell said: "We are delighted to be collaborating with GROUNDTRUTH - they are a truly inspirational company who share our ambitions to promote a carbon zero future. We are showcasing this through our racing and entertainment platform and they are demonstrating how our waste of today can be used to create functional and stylish products. We will certainly enjoy exposing the backpacks to the variety of extreme environments and locations through our Extreme E events."

To further promote their quest, GROUNDTRUTH'S Sophia Scott will be amongst an all female team of athletes, sailors, scientists and storytellers to sail from Iceland to Greenland testing the newly innovated material created from the captured CO2 whilst monitoring the ever-changing climate and pollution of the Arctic. The six strong team, TEAM UMIAQ, will be creating a documentary story of the trip and their subsequent learnings. Their boat will arrive at its final location, Kangerlussuaq in Greenland at the end of August at the same time and location of Extreme E's third race event (27-29 August).

This timely coincidence will give the new collaboration a great kickstart and enable their joint messages to be documented to a huge worldwide audience as well as the on-site attendance surrounding this extraordinary race event.