What on Earth is Niobium?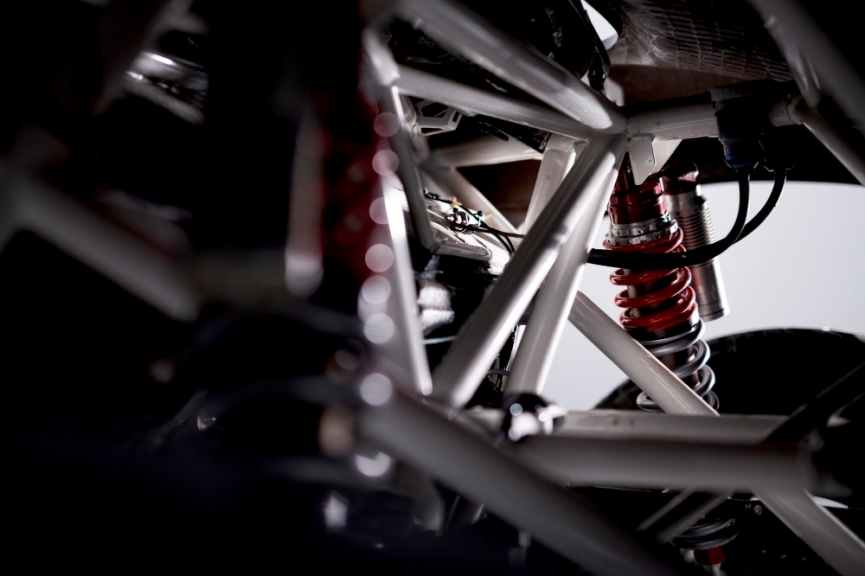 Extreme E talks to Giuliano Fernandes from Founding Partner CBMM for the answers.
No one could possibly forget Claudia Hürtgen's jaw-dropping five-time roll at Extreme E's Desert X Prix in Saudi Arabia during qualifying, but thanks to the incredible build quality of her electric SUV – ODYSSEY 21 - the Abt CUPRA driver was able to walk away unscathed from the potentially terrifying incident with nothing more than a bitten tongue.

So, what does it take to design and build bodywork that can withstand this kind of impact? We talk to Giuliano Fernandes from CBMM, one of Extreme E's Founding Partners and the cutting-edge company responsible, in partnership with SPARK, for development of the chassis and roll-cage for its fleet of ODYSSEY 21 all-electric race cars – components that were certainly put to the ultimate test at Extreme E's inaugural race in Saudi Arabia.

Q: What was it was that made CBMM want to be part of this ground-breaking motorsport series?
Giuliano Fernandes: "CBMM was very excited by the whole concept of Extreme E and wanted to be involved right from the beginning when we heard about Alejandro Agag's plan to race electric SUVs in remote locations.
"We believe that motorsport is extremely important for promoting an innovative environment and enabling technological developments with the most experienced companies and professionals in the world. CBMM understands that there is total synergy between its purpose and that of Extreme E, both with the ambition to develop and advance technology and sustainability."

Q: Can you explain a bit about how CBMM got started, and where it fits in the automotive industry?
"The history of CBMM began 66 years ago in the State of Minas Gerais, Southeastern Brazil. In 1961, CBMM began to produce niobium. Little was known about this metal, but with innovation at the heart of this company's DNA, CBMM were pioneer and innovator to realise the benefits of this unique material. Today, CBMM's niobium technology serves more than 400 customers in over 40 countries worldwide.
"CBMM is the only Brazilian company that is a partner in the main sustainable motorsport platforms, like Extreme E, Formula E and Rally do Sertões - something we are very proud of.
"The automotive industry has always been concerned about using the most advanced material and technologies to ensure safety and quality to its products. It is, as of today, one of the greatest consumers of advanced materials. Seeing this potential and knowing that motorsports are a big research and development campus to new and innovative technologies, we saw the possibility to start something new and different, as an opportunity to bring electrification, electric mobility, and revolutionary niobium technology and its applications to the market and to the spotlight."

Q: We know that one of the factors that sets CBMM apart from its rivals in the motorsport research sector, is its use of niobium, so what on earth is it and why is it so effective?
"Niobium is a processed metal that improves the performance and the sustainability of different materials. Its unique properties and multiple applications in different sectors are constantly being developed by our intense R&D program.
"In Extreme E, niobium is a key material used for the fabrication of the ODYSSEY 21's chassis and roll cage. The use of niobium steel results in increased strength and resilience of the steel alloy, making the material stronger and tougher simultaneously, a unique benefit that is key to help increase the safety of the cars.

Q: Niobium is clearly a gamechanger when it comes to car safety and design but where else in the world is it used?
"Niobium has a wide range of applications and can be found in many vital sectors including the construction industry in, for example, structural steels that make buildings safe. It is also used in the energy sector and is enabling the shift to more sustainable ways to generate, distribute and consume energy. In addition, industries such as aerospace, medical and optical count on important niobium applications in jet engines, rockets, and satellites, plus MRIs and lenses for cameras, telescopes and so on."

Q: Got it…so, back to Extreme E. What were Giuliano's feelings when he saw CBMM's technology being put to the ultimate test during the crashes and rolls in Saudi Arabia?
"It was possible to test to the limit the superstructure and extreme safety of the ODYSSEY 21, the e-SUV developed by Spark from France, using the niobium material technology from CBMM, developed in Brazil. Seeing Claudia Hurtgen walk away normally after an impressive accident, in a scene that went viral around the world, reinforced that the work was well done and that the use of super-resistant materials helps both in terms of sustainability and saves lives."

The ODYSSEY 21 will next be put to the test by a line-up of world-class drivers in Greenland for the Arctic X Prix from 28-29 August.

Click here to learn more about the ODYSSEY 21.