Mikaela Åhlin-Kottulinsky joins JBXE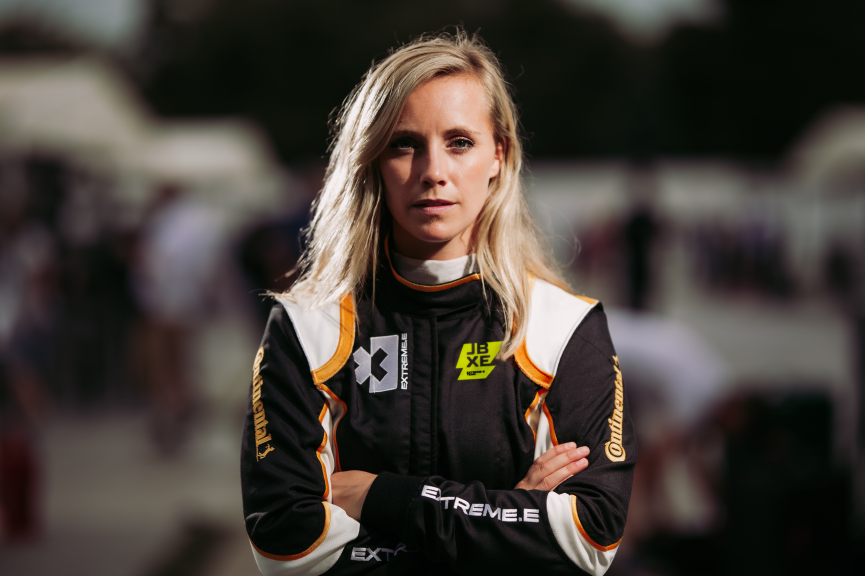 Extreme E's latest addition to the teams line-up – JBXE - has today confirmed Mikaela Åhlin-Kottulinsky will join Jenson Button, the team's founder and driver, in the cockpit.
Åhlin-Kottulinsky is no stranger to Extreme E, as test driver for the championship's Founding Partner, Continental. In that position she has played a pivotal role in developing the CrossContact Extreme E tyre, which is fitted to all the electric SUVs named ODYSSEY 21.
In recent years, the Swedish driver has successfully competed in the Scirocco R-Cup Germany and in the rallycross discipline. In 2015, she took part in the newly established Audi Sport TT Cup. She also started in the junior classification of the ADAC GT Masters in 2016 and in the Audi Sport Racing Academy in 2017, before switching to the Scandinavian Touring Car Championship in 2018, where she made history as the first, and only woman ever to win races in that series.
Mikaela Åhlin-Kottulinsky, JBXE driver, said: "I am delighted to be joining the JBXE team alongside Jenson Button, it feels like a dream come true.
"Not only do I get to race with such a fantastic team mate, but we both really believe in the platform of the series. Extreme E is more than just another motorsport, it is a sport for purpose which we can use to showcase electric vehicles and motivate people to rethink their views on the consequences of climate change. If we can make this racing series exciting, innovative and interesting to follow, the willingness to make big and small changes will grow – for the benefit of our world and everyone on the planet."
Jenson Button, Founder and driver, JBXE said: "I am delighted to be welcoming Mikaela to JBXE and to have her as my teammate. She brings with her some fantastic experience behind the wheel and her work with Continental and Extreme E to this point clearly demonstrate what an asset she will be to the team.
"In Mikaela I also have no doubt we have an incredibly valuable ambassador to represent JBXE, and Extreme E as a whole, in the fight to raise awareness of climate change and to help implement the Extreme E Legacy Programme projects along the way."
Alejandro Agag, Founder and CEO of Extreme E, said: "I am delighted to see Mikaela selected for the JBXE team and officially welcome her onboard the adventure as our latest Extreme E driver. Her work with Continental has been integral to helping create the championship tyre, and whilst she is the latest to join the party, I'm sure that her previous knowledge and her early experience in the car will help her get stuck in quickly.
"Mikaela and Jenson are certainly going to make a strong driver pairing and I can't wait to see them racing in just 22 days at our first X Prix in Saudi Arabia."
Mikaela's signing to JBXE completes the Extreme E driver line up for the opening Season race, following confirmation that Team Techeetah is postponing its entry into the series.
The team, owned by the Indonesian Indover Group, has cited the COVID-19 pandemic the deciding factor in the decision, with global travel restrictions meaning they couldn't get to Europe to test their car and drivers or make the necessary preparations required. Team Techeetah remains committed to competing in Extreme E in a later race and will update on its future competitor status in the coming weeks.
Åhlin-Kottulinsky joins a stellar line-up of drivers from a wide range of motorsport disciplines including the likes of Jamie Chadwick, Timmy Hansen, Sébastien Loeb, Carlos Sainz Snr. and Molly Taylor. All are set to compete on the deserts of AlUla in Saudi Arabia from 3 – 4 April, across what promises to be two days of thrilling racing in a format likened to 'Star Wars pod racing meets Dakar.'
But Extreme E isn't just about racing, it is a sport for purpose, and through sport the series is highlighting the varying environmental issues affecting the planet and the biggest emergency of our time - climate change. In addition to raising awareness, the series will also support Legacy Programmes in each of its five race locations leaving a long-lasting positive impact.