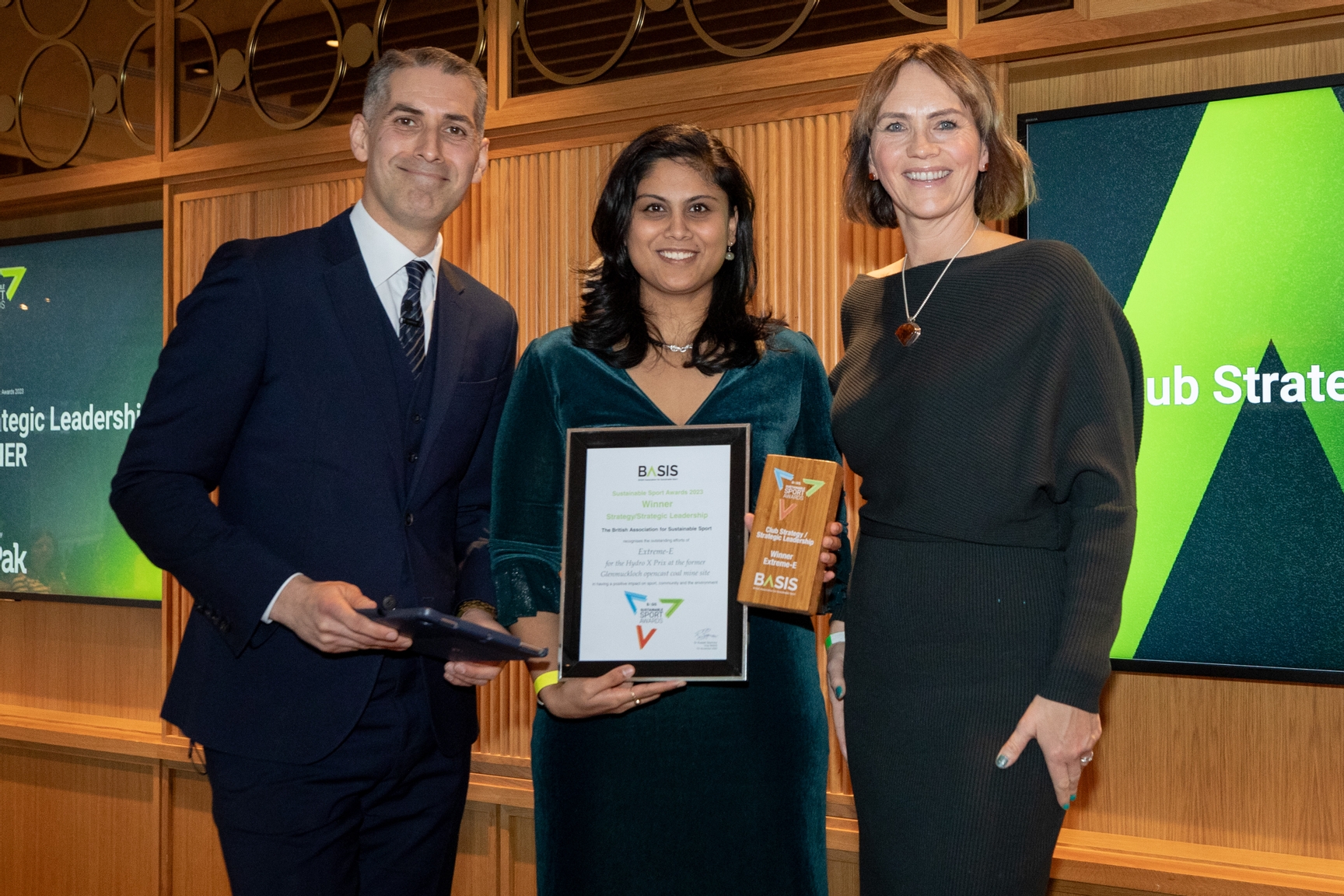 Extreme E claims double success at BASIS Awards
Held at the iconic All England Lawn Tennis Club, home to the Wimbledon Tennis Championships, Extreme E's double success at this year's celebration of sustainability in sport reinforces the series' strong environmental performance.

BASIS has provided expert help to the sports industry for more than a decade, helping to understand its impacts, set targets and implement processes to improve environmental commitments.

BASIS aims to harness the power of sport to build a sustainable future, empowering sport in the UK to become a world leader in sustainability with the urgency dictated by science, leveraging the significance of elite sport to guide society towards social and environmental sustainability.

Extreme E received the Strategic Leadership Award in recognition of its efforts to deliver a positive impact on sport, the environment and the local community at the Hydro X Prix in Scotland, held at the former Glenmuckloch opencast coal mine site earlier this year.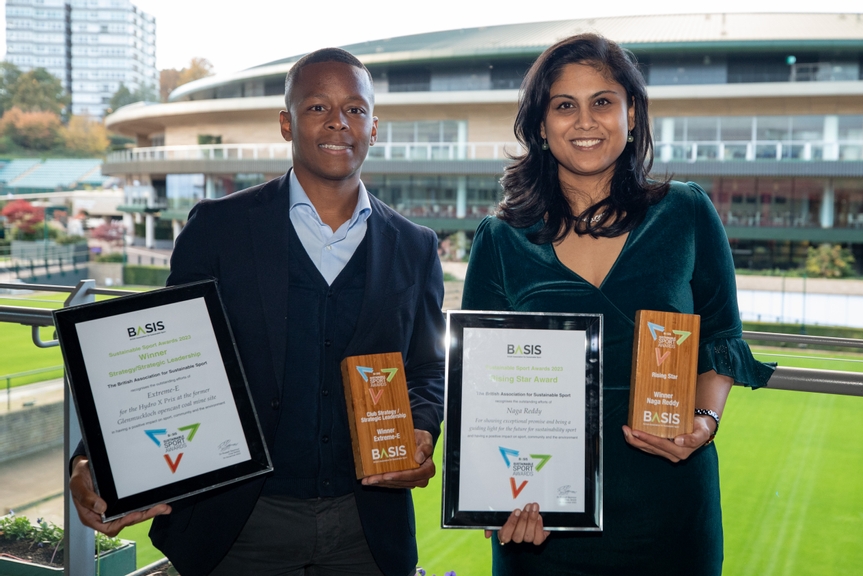 On receiving two BASIS Sustainable Sports Awards Ali Russell, Managing Director of Extreme E, said: "I am thrilled that Extreme E has received such fantastic recognition at this year's BASIS Sustainable Sports Awards.

"Extreme E is committed to driving positive action and environmental change, and receiving the BASIS Strategic Leadership award from our peers is a really special feeling. It gives us confidence in the direction we are travelling in to achieve our environmental and sustainability goals, so it is a proud moment for everybody involved in our series.

"I am also delighted that Naganethra has been recognised as this year's BASIS Rising Star. Naganethra's passion not just for Extreme E but driving positive action has been evident since she first joined the championship, and to receive the Rising Star Award for her efforts so far is richly deserved."

Naganethra joined Extreme E as Social Impact and Fan Engagement Strategist in February 2023 and has played a crucial role in delivering the series' Legacy Programmes, as well as its environmental initiatives both on and off track.

On receiving the Rising Star Award, Naganethra said: "I am deeply grateful for the recognition from BASIS and trust extended to me by the entire Extreme E team. Working for a purpose-driven organisation like Extreme E is not just a source of pride but also a true calling.

"On a personal note, relocating from one country to another marked a profound chapter in my life - a journey of starting anew from scratch. This recognition prompts me to reflect on that journey - the challenges, the value of honesty, and the power of authenticity. I hope to inspire others like me, encouraging them to pursue their passions with unwavering determination.

"I feel incredibly fortunate to collaborate with dedicated individuals at Extreme E who inspire and support me daily. Their trust acts as a driving force, compelling me to give my best and make meaningful contributions. Thank you for believing in me."

Extreme E is a radical off-road racing series, founded by the same team behind Formula E, which showcases electric SUVs and futuristic technologies in some of the world's most remote and challenging environments.

This five-event global voyage utilises its sporting platform for the purpose of promoting electrification, environment and equality. With the leadership and support from its Scientific Committee, the series' goal is to highlight the impact of climate change in some of the world's most endangered environments, promote the adoption of electric vehicles to pave the way for a lower carbon future, and provide a world-first gender-equal motorsport platform.

The first sport to ever be built out of a social purpose, Extreme E aims to minimise environmental impact while maximising awareness, racing in places that have already been damaged or affected by climate change or human interference and taking fans deep into the heart of the most pressing issues facing our planet's future.