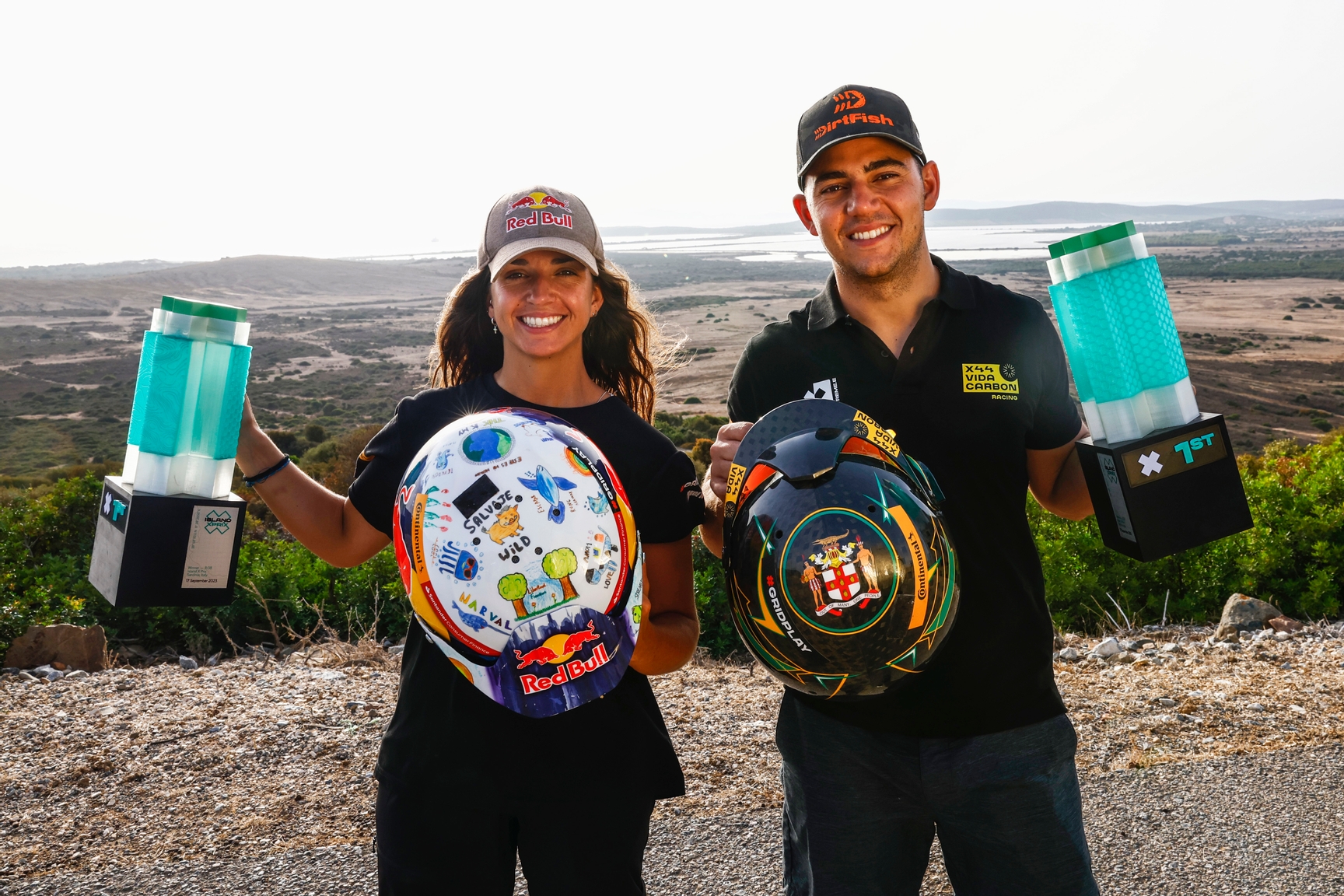 X44 Vida Carbon Racing take second win of Season 3 in Round 8
Cristina Gutiérrez and Fraser McConnell took the win ahead of Rosberg X Racing (RXR) in second, who just miss out on taking the championship lead from ACCIONA | SAINZ XE Team, sitting just three points behind the Spanish outfit in the standings.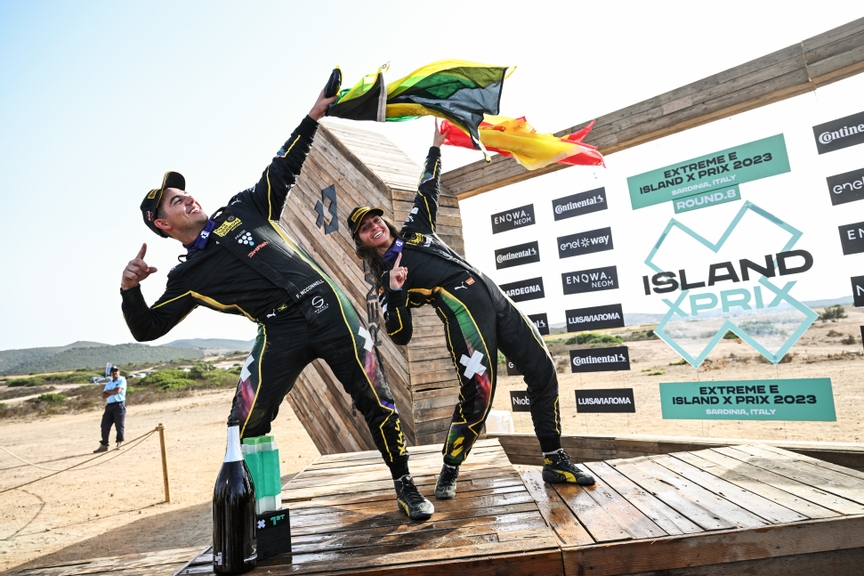 Cristina Gutiérrez, X44 Vida Carbon Racing, said: "We had a tough start to the weekend, but we kept our spirits up and with all the team working together we prepared well for the final. Fraser had an amazing start and I just had to keep my head focused to get us round for the win! We are so happy and proud of the team!"

Fraser McConnell, X44 Vida Carbon Racing, said: "So happy to redeem ourselves in Sardinia. Cristina and I had our heads down and drove four strong clean laps in the final. As always, the team worked tirelessly to make sure the car was in top shape. Big up to team X44 Vida Carbon Racing. This won't be the last you hear from us!"

The third step on the podium went to ABT CUPRA XE, as Klara Andersson and Sébastien Loeb secured back-to-back podiums at this Island X Prix.
No.99 GMC HUMMER EV Chip Ganassi Racing took fourth, with RJ Anderson going wheel-to-wheel with RXR's Johan Kristoffersson in an exciting bout. A DNF for JBXE in their second Grand Final dashed the team's hopes of a first podium in Season 3, but matches their season best of fifth place.

Winners of the Redemption Race were Kevin Hansen and Molly Taylor, as Veloce Racing keep themselves within reach of the title as the championship battle reaches a thrilling climax. Just 21 points separate the top three as Extreme E heads into the last two rounds of Season 3, in Chile (December 2-3).

Grand Final

Fraser McConnell secured the perfect start for X44 as he charged around the outside in the opening corner. Another impressive overtake followed, as Loeb managed to pass RXR's Johan Kristoffersson to take second.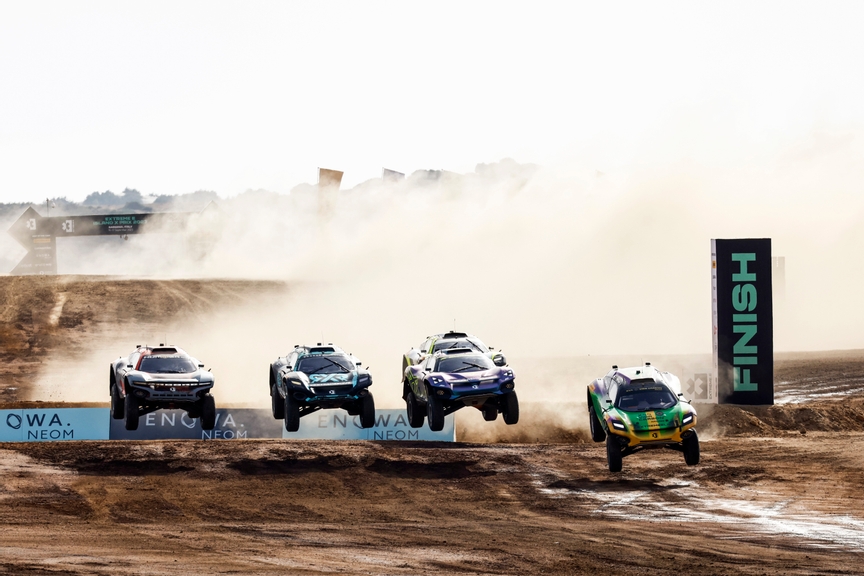 The Swede went wide in the water splash soon after and lost another place, this time to No.99 GMC HUMMER EV Chip Ganassi Racing's RJ Anderson.

Kristoffersson pushed hard to overtake back as the pair made contact over the jump at the end of Lap One. The RXR driver soon regained third, taking a wider line to carry more pace exiting a corner. Up ahead Loeb then went wide, opening the door for Kristoffersson to gain ground and fly up the inside a few corners later to take second.

As the next drivers took over, a confident drive from Cristina Gutiérrez ensured the win for X44 ahead of RXR's Mikaela Åhlin-Kottulinsky in second and ABT CUPRA XE's Andersson in third.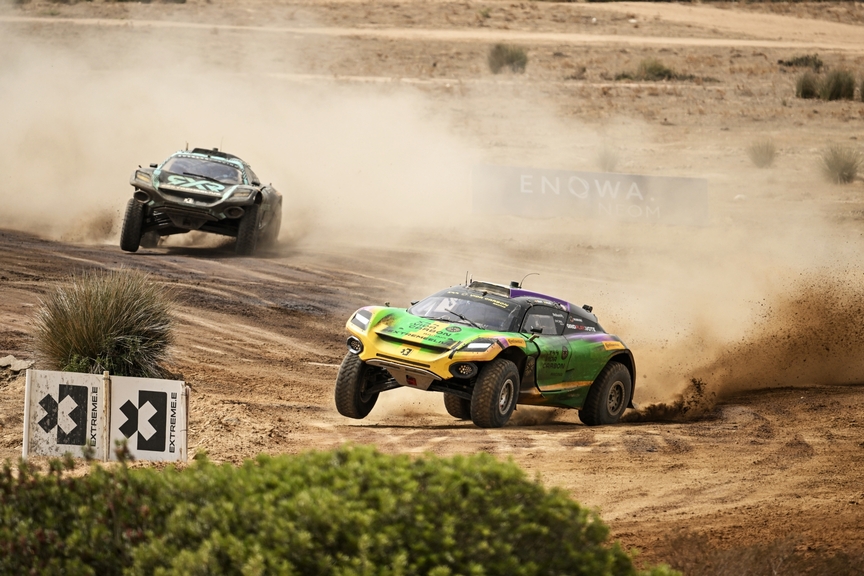 Fourth place went to No.99 GMC HUMMER EV Chip Ganassi Racing's Amanda Sorensen, while JBXE's race ended with a DNF as Andreas Bakkerud pulled up with a damaged front right wheel.

Redemption Race

The Redemption Race was a matter of damage limitation for championship leaders ASXE and remaining within the title fight for Veloce Racing who sit third in the standings.

ASXE did not get the start they needed, as Mattias Ekström went sideways on the opening straight and dropped to the back of the group. Meanwhile Veloce Racing's Hansen stormed into the lead in pursuit of the maximum eight points.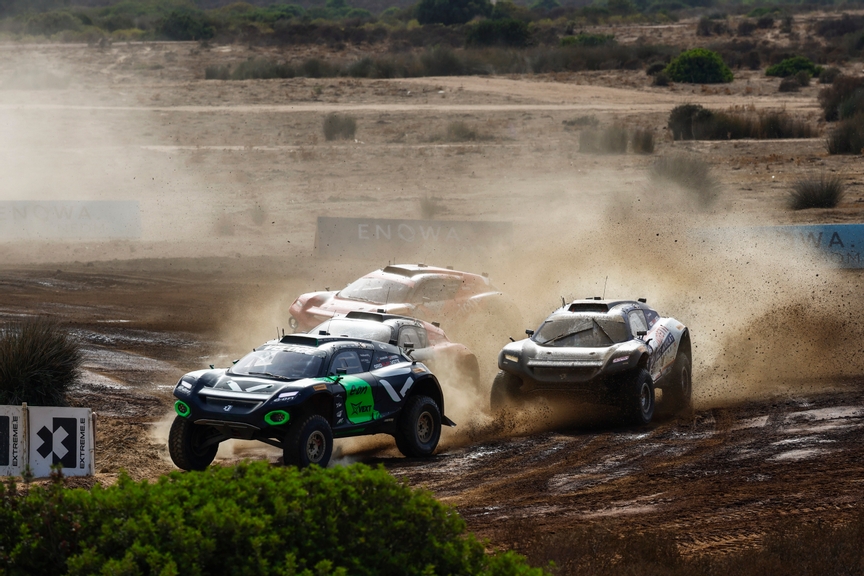 Timo Scheider ran in second for Carl Cox Motorsport, followed by Andretti Altawkilat Extreme E's Timmy Hansen, as Ekström dropped further back due to technical issues with his ODYSSEY 21.

Following the driver change in the Switch Zone, Taylor controlled the lead to take Redemption Race victory, while Munnings went late on the brakes to take second for Andretti Altawkilat ahead of Lia Block in the Carl Cox Motorsport machine.

Laia Sanz crossed the line in fourth, meaning just three points were gained across today's racing action for ASXE, but this proved just enough to remain at the top of the leaderboard heading into the all-important title decider in Chile.

RESULTS

Grand Final
1. X44 Vida Carbon Racing 10:08.030
2. Rosberg X Racing +5.813s
3. ABT CUPRA XE +8.621s
4. No.99 GMC HUMMER EV Chip Ganassi Racing +13.856s
5. JBXE DNF

Redemption Race
1. Veloce Racing 09:39.903
2. Andretti Altawkilat Extreme E +6.099s
3. Carl Cox Motorsport +10.469s
4. ACCIONA | SAINZ XE Team +56.474s
5. NEOM McLaren Extreme E Team DNS

Championship Standings
1. ACCIONA | SAINZ XE Team: 139 points
2. Rosberg X Racing: 136 points
3. Veloce Racing: 118 points
4. No.99 GMC HUMMER EV Chip Ganassi Racing: 99 points
5. X44 Vida Carbon Racing: 87 points
6. ABT CUPRA XE: 75 points
7. Andretti Altawkilat Extreme E: 71 points
8. NEOM McLaren Extreme E Team: 45 points
9. JBXE: 42 points
10. Carl Cox Motorsport: 40 points